Do you feel getting stuck when you search for the ideal lighting fixtures for your renovated kitchen island? Well, it's indeed not an easy job because we always expect a perfect cooking space to combine the functionality and aesthetic. However, as the expert in lighting industry, we're confident to tell you that your expectation can be fulfilled simply by hanging several well-curated and designed pendant lights.
In LNC HOME, we're devoted to providing best lighting solutions to our customers. It's not surprising that kitchen chandelier should be the first choice to stun your guests and friends. However, in order to not sacrifice utility, we recommend more pendant lighting fixtures with focused light source and creative appearance. Therefore, we've selected 15 exclusive pendant lights with unique shapes to upgrade your kitchen island into next level.
Gold pendant light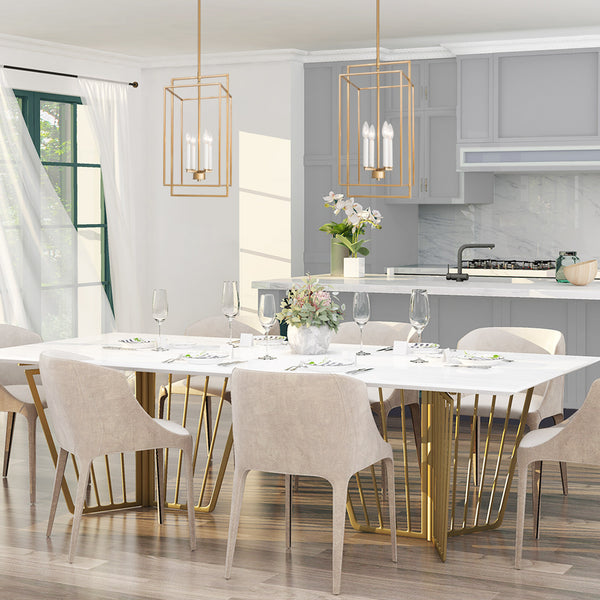 Globe geometric pendant light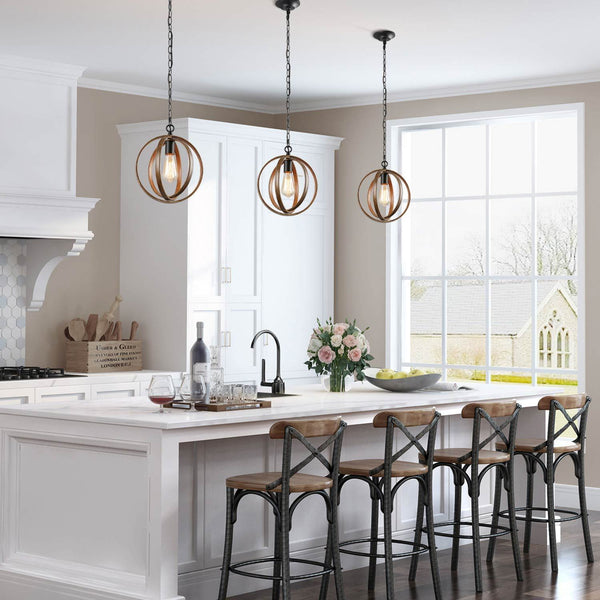 At first sight, these globe geometric pendant lights look like a group of angels to infuse endless charm and softness into this large elegant kitchen island. It features several round wood frames to create absorbing shadows on your well curated kitchen table. It's hard to imagine if there is anyone can resist such kind of temptation.
Rectangular pendant light
LNC HOME Globe Geometric Pendant Light - $99.99
To witness that these simple but chic rectangular pendant lights work so amazingly above the while kitchen table is really out of our designer's expectation. As you can easily see, this pendant light has nothing special but a unique gold rectangular frame to surround the bright light. However, such original design does make us easily to associate its owner with higher aesthetic.
Modern glass mini pendant light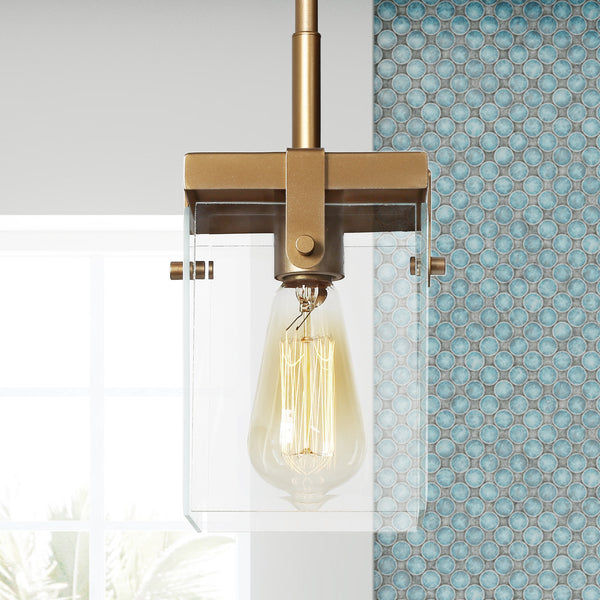 LNC HOME Rose Gold Modern Mini Pendant - $119.99
This modern glass mini pendant light features in a polished rose gold frame with four transparent glass shades to provide sufficient brightness as well as add countless creative vibes into your kitchen. Rather than be a small illumination resource, this mini pendant indicates a fun style to add more spice to your life.
Gold bowl pendant light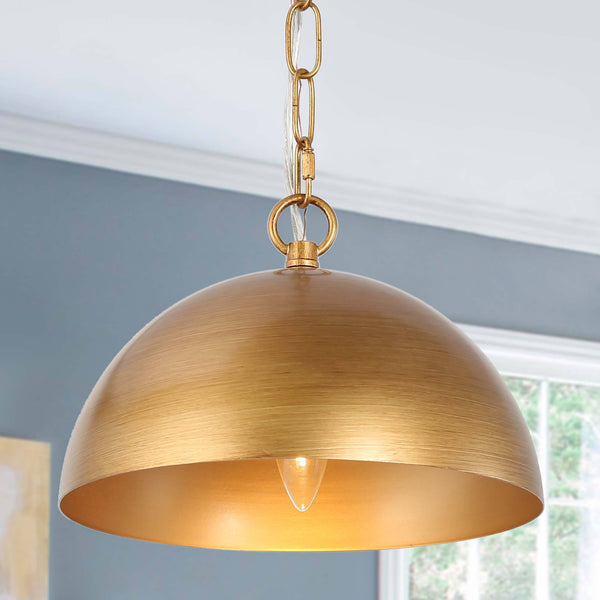 LNC HOME Rose Gold Modern Mini Pendant - $99.99
Do you see the two antique gold bowls hang upsides down over the big kitchen island? Yeah, they look so outstanding that nobody can ignore them! Also, such luxurious color is the little secret how these bowl pendant lights can promote the aesthetic of such ordinary kitchen into next level.
Antique cone pendant light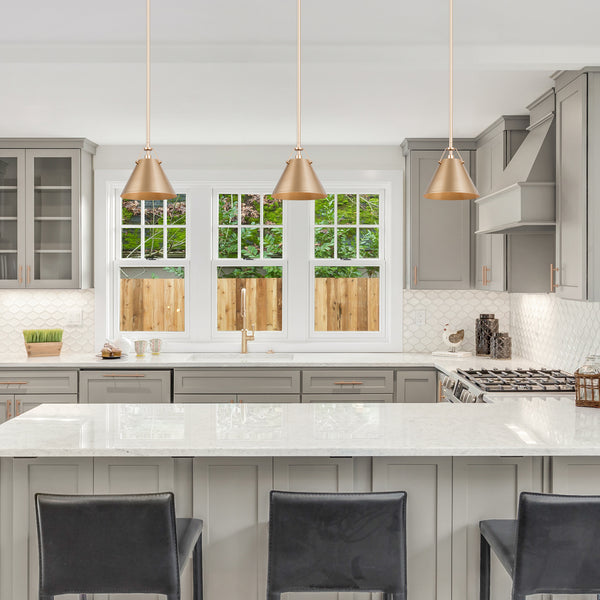 LNC HOME Antique Gold Pendant Light-$99.99
Do you enjoy living a life back in mid-century? Our antique cone pendant light can make your dream come true. This vintage pendant light attracts people's attention by the gold cone shaped shades and long chic sleek metallic bar. Luxury goes beyond words with this gorgeous pendant lighting fixture.
Modern cylinder pendant light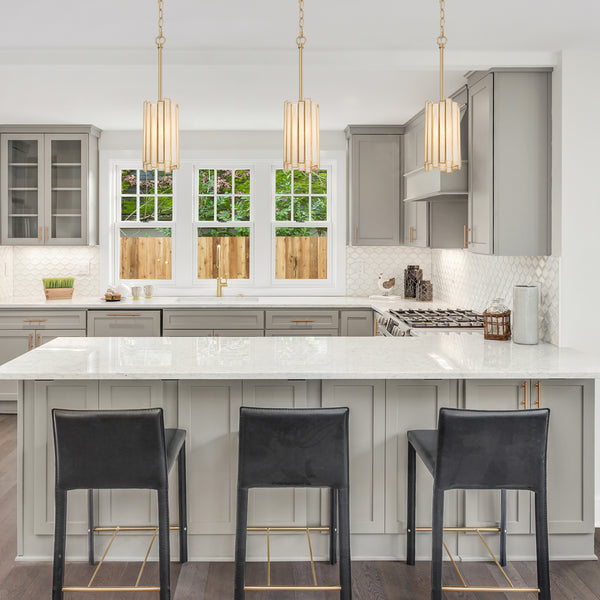 LNC HOME Modern Cylinder Pendant Light-$119.99
Cylinder milk shades with gold modern sleek frame perform wonderfully over an ivory kitchen table which is graceful and charming. Such kind of shape is out of the ordinary enough to fully grab your guests' attention and improve the whole level of the interior design in your beautiful kitchen.
Industrial drum pendant light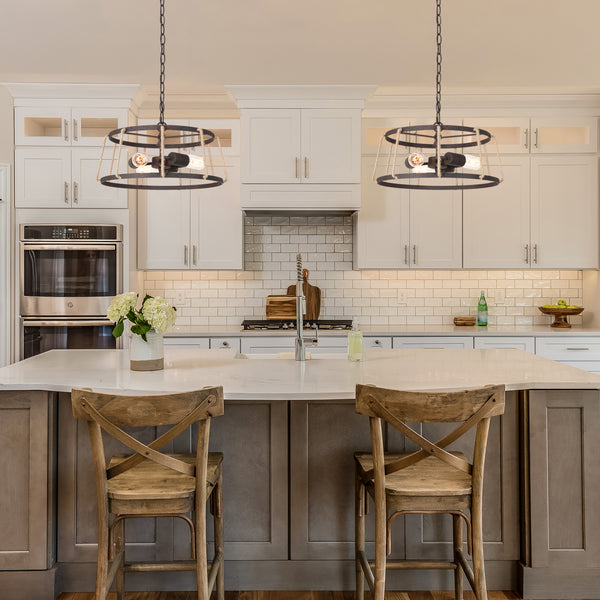 LNC HOME Modern Industrial Drum Pendant Light-$199.99
When we think about choosing an exclusive lighting fixture as the centerpiece of any style kitchen, we can only select from exaggerated chandeliers before. But now, this industrial drum pendant light is born for those who wish to install an original pendant light to add more industrial chicness as well as exquisite style.
Wood beaded mini pendant light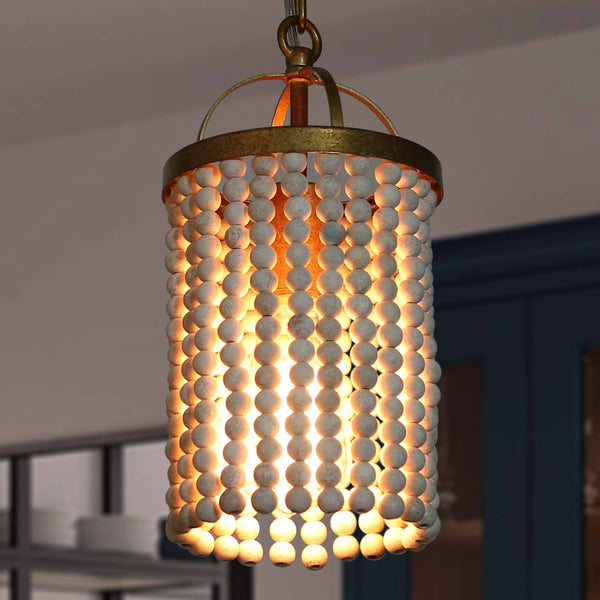 LNC HOME Modern Wood Bead Drape Mini Pendant-$159.99
Would you like to try bohemian style with our wood beaded mini pendant light? Its mignon and elegant appearance can enhance the luxury ambiance over your kitchen island, not to mention the glamour it will add when open all lights in a night with your friends. We deeply believe that its stunning beaded shadows will become one of the best parts in your memory.
Teardrop pendant light
LNC HOME Water-Drop Pendant-$119.99
If you want to put more natural elements into your small kitchen space, then don't miss our teardrop pendant light. Compared to the monotonously wood frame, this water drop pendant light looks more glamours due to the gorgeous drop curves and crystal shades which works perfectly over a small kitchen table.
Black cube mini pendant light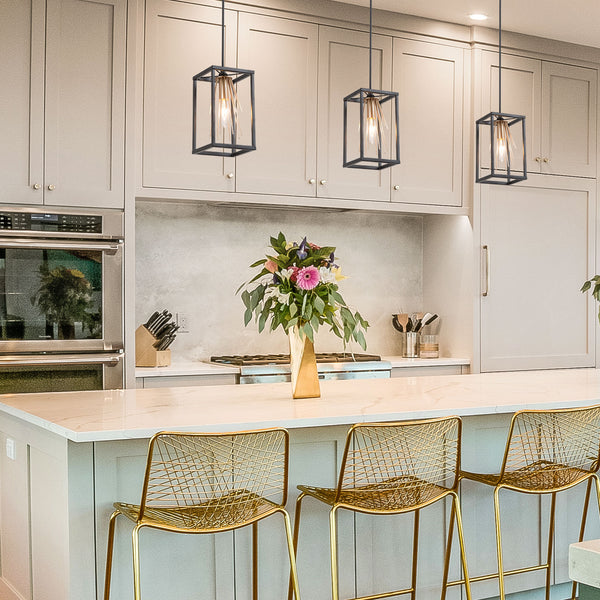 LNC HOME Gold Starburst Chandelier, Mini Cube Chandelier-$119.99
This exquisite black cube mini pendant light characterizes in metallic cube frame with hollow design to add modern art atmosphere in any contemporary kitchen space. It's incredible to hang these mini pendant lights to decorate and upgrade your kitchen island but not grab all attention in the room. The ultimate secret of this glamourous pendant lighting fixture is its classic color match, which keeps sending out temptation faintly.
Mason jar pendant light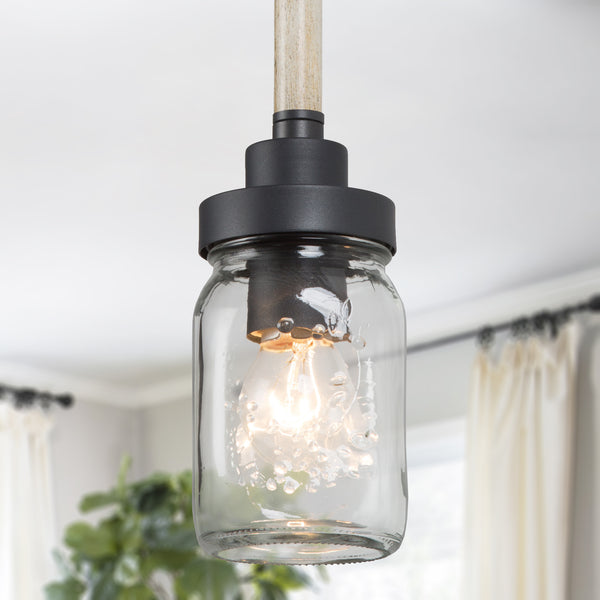 LNC HOME Modern Farmhouse Mason Jar Pendant-$59.99
Mason jar pendant light is somehow LNC HOME exclusive lighting piece. Not only because it's completely handmade by our experienced craftsmen, but also the cute and stylish design could only be found on LNC HOME website. If you want a charming and sweet look, this Mason jar pendant light won't let you down.
Wire mini pendant light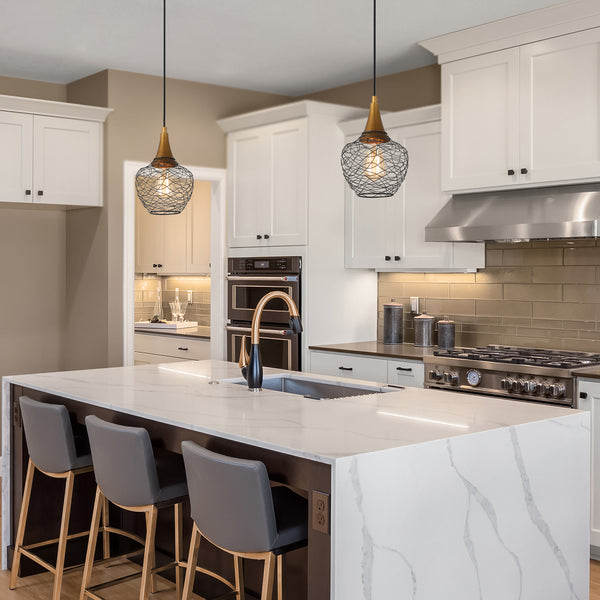 LNC HOME Modern Industrial Wire Mini Pendant-$99.99
This wire mini pendant light is our new product in 2022, the beauty of which is so stunning that people can't move their eyes once they see it. No matter you want to enhance industrial vintage feeling over your kitchen island, or you are just deeply attracted by its exquisite wires, you would love it more once you hang it in your beautiful house.
Glass bottle pendant light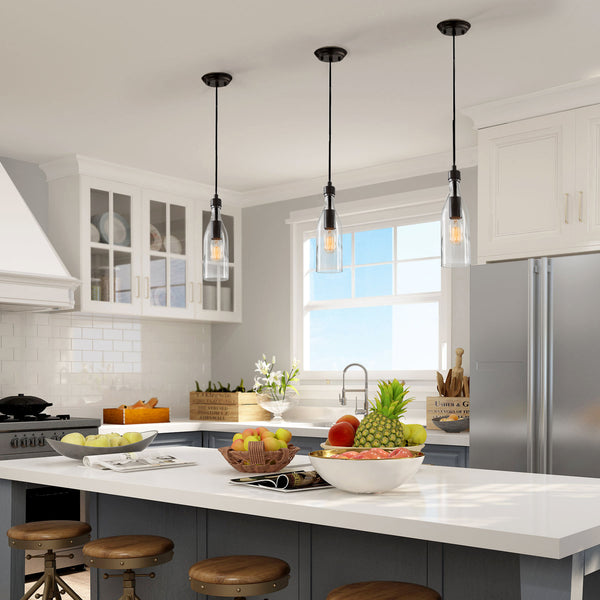 LNC HOME Glass Bottle Pendant-$99.99
"Simple yet on-trend", this is the first impression of this glass bottle pendant light from our previous customers. The transparent shades and straight single line weave all modern style and artistic chicness into a normal kitchen room. Try to set them over your kitchen island to upgrade your space into a higher level.
Pot lid pendant light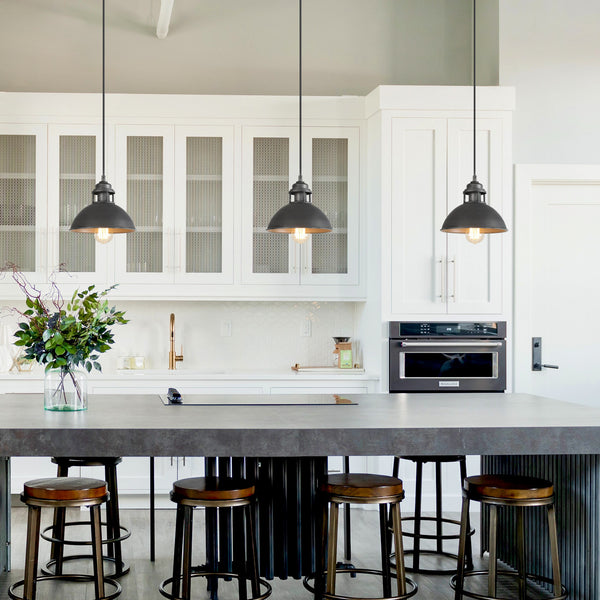 LNC HOME Pot Lid Pendant Light-$69.99
This industrial pot lid pendant light is one of our best seller lighting fixtures. Sometimes to make it different or special, you don't need a big move, just by hanging an originally crafted pendant light, your kitchen will be refreshed immediately.
As you can see, all these 15 exclusive kitchen pendant lights have presented their own unique beauty. It's suggested that you can set a group of creatively designed pendant lights with different heights to infuse more chic vibes into your kitchen.
It sounds very attractive, doesn't it? Just feel free to leave a comment below and share with us your favorite shapes of pendant lights! Or if you still want to know more about how to choose an appropriate pendant light for your newly decorated house, come to read our blog articles and get more inspiration now!