Bathroom vanity lights are always the eye-catching pieces in any style bathroom which play the combined role of functionality and artistry. Installing a bathroom vanity light can effortlessly add chicness and more glamorous vibe into your stylish bathroom by its sleek, delicate and versatile finishes. From modern gold to rustic wood, from crystal to metal, different style, color, size and material will set a completely different tone in your room.
Hence, we've organized and delicately selected top 10 unique over bathroom vanity lights in LNC HOME to inspire you and help you make better choice! No matter you are searching for the best bathroom lighting for makeup routine, or you probably need a creatively designed modern bathroom vanity lighting piece to lighten your mood every morning, these vanity lighting ideas could be helpful and inspiring with strong reasons that you should explore right now!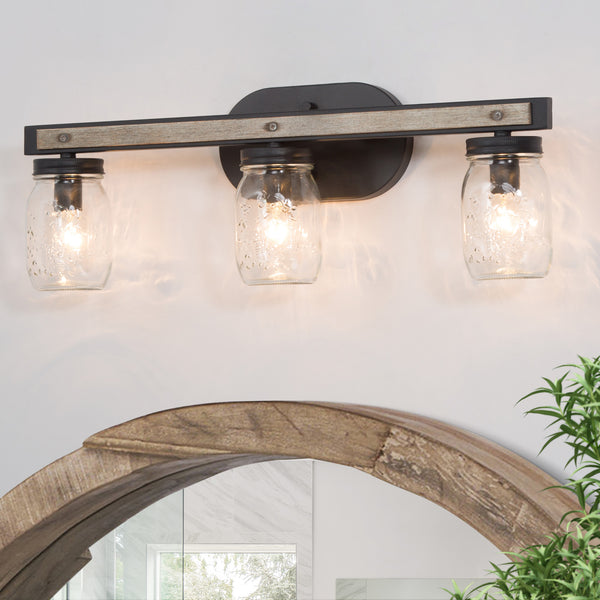 Lnc Home Rustic Mason Jar Vanity Light-3 Lights-$149.99
Understated Chic of Minimalism
The simplest notes often make the most beautiful melodies, this principle also works when choosing a bathroom vanity lighting fixture. To achieve the essential beauty of vanity lights, our designers adopt the basic elements to design this black linear vanity light, which declares the understated chic of minimalism. This modern black bathroom vanity light is perfectly designed for a modern or contemporary bathroom with three unique transparent semi globe glasses.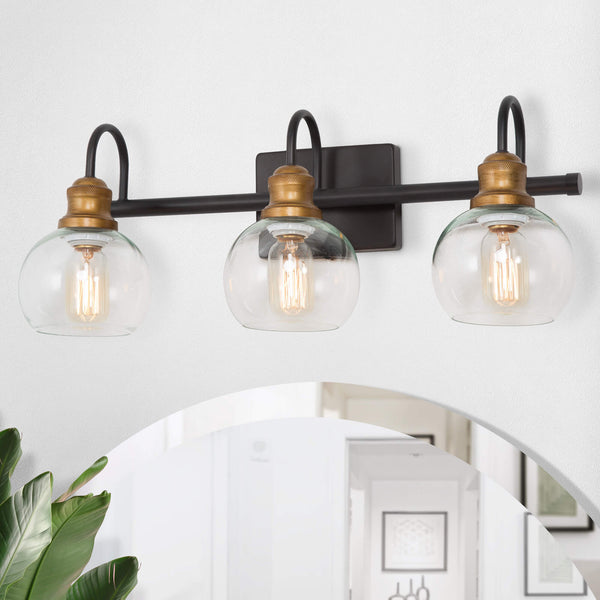 A Fusion of Classic and Contemporary
This black modern vanity light is the best fusion of classic black shades and contemporary sleek gold bar. Installing this black bathroom vanity light is definitely a bold but creative try to add endless modernity and chicness into your bathroom. No matter you have a round shape mirror with gold frame or just a simple rectangular mirror with chic black side, this black and gold bathroom vanity light can perfectly match it without any doubt.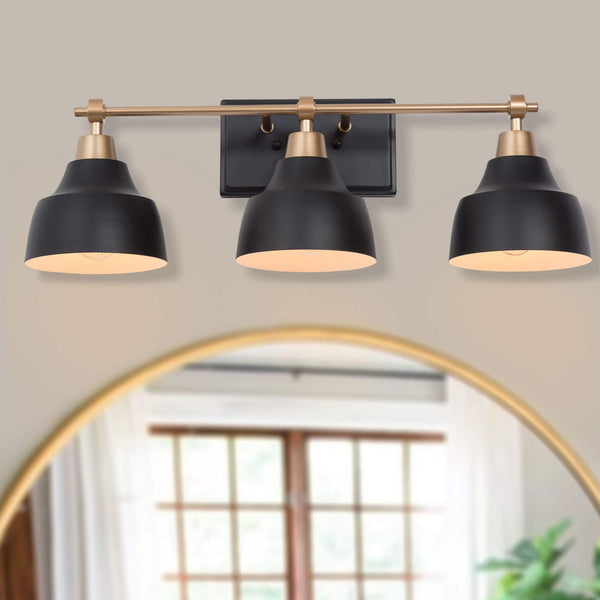 Lnc Home Matt Black Vanity Light-$135.99
The Representative of Modern Elegance
The first sight we saw this gorgeous gold vanity light, we can't move our eyes! It's absolutely the best representative of modern elegance. With sleek gold line extending and connecting three transparent as well as semi-orb glass shades, this clear glass vanity light will constantly exude endless charm and chicness above your mirror. Also, based on the feedback of our customers, such gold vanity light fixtures can achieve amazing effects especially over a round mirror in any style bathroom.
Lnc Home Gold Clear Glass Wall Sconce - 3 Lights-sale Price$139.99
Innate Uniqueness of Antique Gold
This gold vanity light features in vintage chic color palette and original bell appearance. Rather than absorbed by its gorgeous shape, the way how such gold bathroom vanity lights shine elegantly and enlightens the room with infinite glamour and modernity does astonish us. If you are looking for a modern gold vanity lighting piece over your bathroom mirror, or just to seek for a vintage gold vanity light over an amazing picture, you deserve to try it with a great price!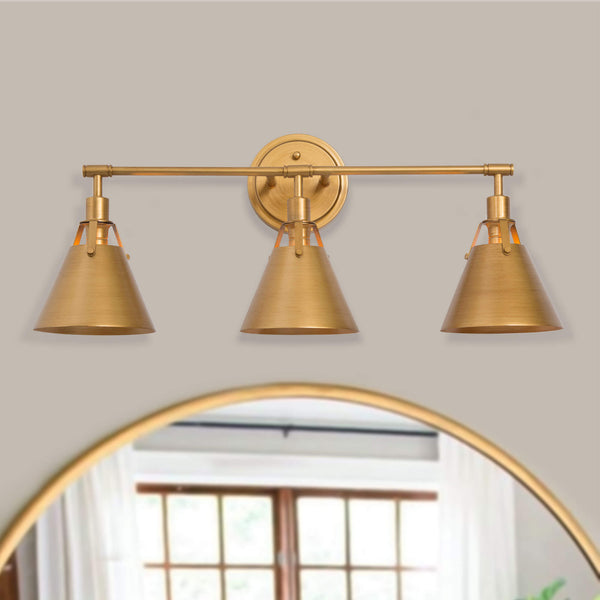 Lnc Home Vintage Gold Vanity Light-3 Lights-$139.99
Pure Cuteness Style
This sweet silver grey fixture vanity light with three cute orb glass shades is so much loved by our customers who are the real experts of vintage style interior designs. The moment when you turn this artistic gold vanity light on, it can immediately create a retro feeling and inject your bathroom with countless antique glamour as well as modern grace. A very special secret to make it works better is to utilize double vanity lighting ideas over your bathroom sink, you will be stunned by the amazing final look!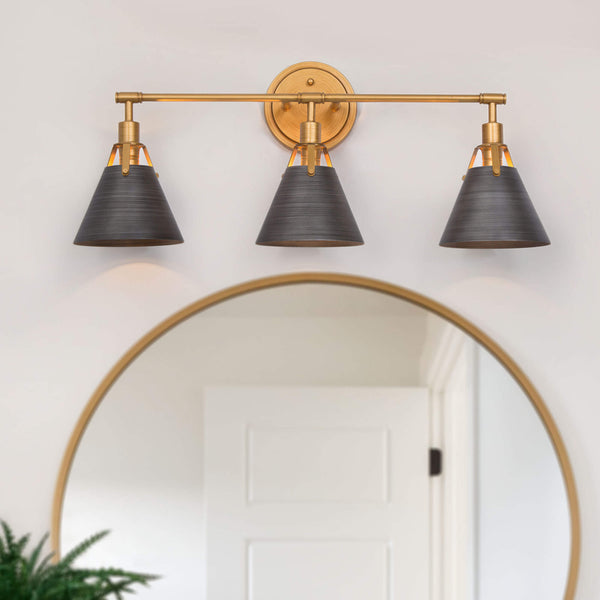 Lnc Home Silver Grey Fixture Vanity Light-3 Lights-$149.99
Adorable Charm of Mason Jar
This farmhouse vanity light is crafted for people who wish to add more natural charm and more earthiness into their personal space. A long wood plank supports three pretty mason jar shades, this mason jar vanity light indeed possesses an irresistible magic, which can state a simple yet adorable style in your modern farmhouse bathroom. We believe it could be the best light for your wood vanity.
Lnc Home Farmhouse Mason Jar Vanity Light-3 Lights-$129.99
Industrial Vintage Artistry
This industrial cage vanity light will be a perfect option, if you wish to add more metallic allurement and build an industrial style room to showcase your personality. The idea of this industrial bathroom vanity lighting piece comes from the typical light in industrial age – gas lantern. Also, the original wire cage design doesn't only allow this industrial vanity light to bring more brightness for your daily activities, but also make it an eye-catching centerpiece in any bathroom.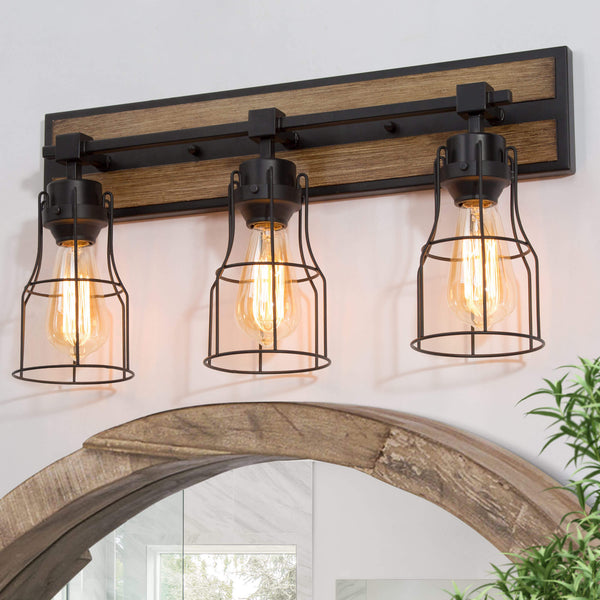 Lnc Home - Industrial Wire Cage Vanity - 3 Lights- $159.99
Lovely Rustic Artistry
This rustic vanity light features in three lovely cylindrical glass with an understated rustic wood bar, which can continuously inject your bathroom with tons of farmhouse glamour. The main reason rustic vanity lights are the best lights for vanity mirror is their perfect blend of functionality and aesthetic. What's more, this wood vanity light has also been recognized as the most practical lighting option for small bathroom. If you want to enlighten a limited space, you should certainly consider this wooden vanity light.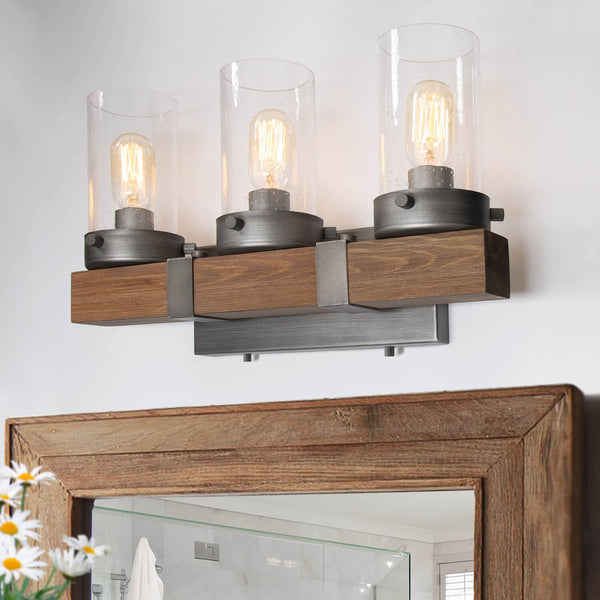 Lnc Home Distressed Wood Wall Sconce - 3 Lights-$97.99
Black Modern Romance
The last vanity lighting idea we would like to present is this elegant black modern vanity light with three pure orb glasses. The sleek metal bar generates three simple black curves, which gracefully portray romantic and classic modern art. While the ultimate allure of this globe bathroom vanity light is when it shines together with a curated bathroom mirror to build a stylish and chic contemporary room.