Kitchen lighting is no longer an underrated part of the household because nowadays, stylish kitchen islands, appliances and adjacent dining areas are quite common. You also need ceiling lights that create a warm and bright ambiance all over the room so that all the sections including oven, sink, counter, shelves and dining table remain well lit. LNCHome has a wide range of kitchen lighting fixtures that compliment traditional, vintage, rustic and contemporary kitchen setups.   
Among the contemporary kitchen island lighting fixtures for counter top and adjacent dining table, you can check out the 6-light ceiling facing foyer pendant fixture that comes with rustic steel and wooden frame surrounding drum-shaped water glass panels. The multi-paneled 25.8"body against the dark bronze detailing looks stunning as it offers perfect light dispersion. Another choice for light-and-shadowy light fixtures would be the 3-light chandeliers of 25.2"x10.2" or 16.5"x16.5" dimension with antique metal frame and crisscrossed distressed wooden panels. With beige linen burlap, a subtle warm glow is guaranteed. The metal rod can be adjusted between 13" and 64.5" for the former and between 9" and 63" for the latter.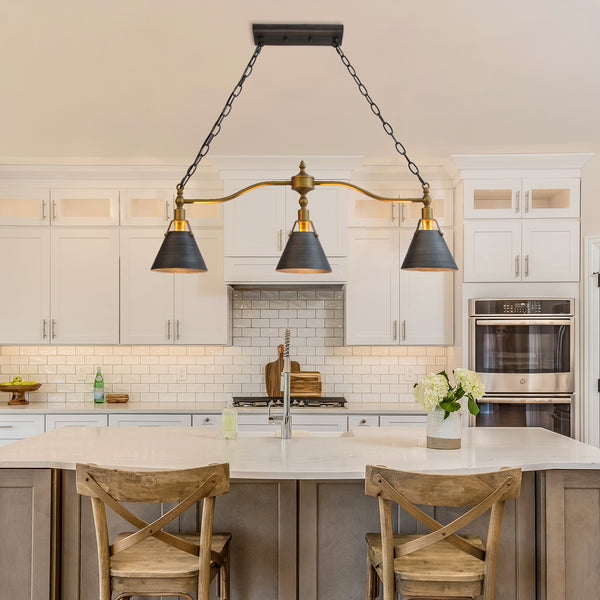 The caged farmhouse kitchen island lighting fixtures can create a patterned light dispersion in the kitchen. While the 5-light rectangular pendant chandelier with upward-facing candelabra fixtures reflect light excellently, the 4-light wooden farmhouse chandelier with downward-facing light shades offer a spotlight effect in the kitchen. For lightening up small spaces, look for the 3-light oval faux wood and metal cage pendant that is dimmer compatible and comes with adjustable chain. For lighting on four directions, the square foyer island light fixture with X-shaped holders will work the best. The 3 and 5-light wooden hanging pendants with metal joints, crisscrossed strings and clear cylindrical shades  or the 8-light wooden chandelier gives a new look for your dining table adjacent to kitchen island.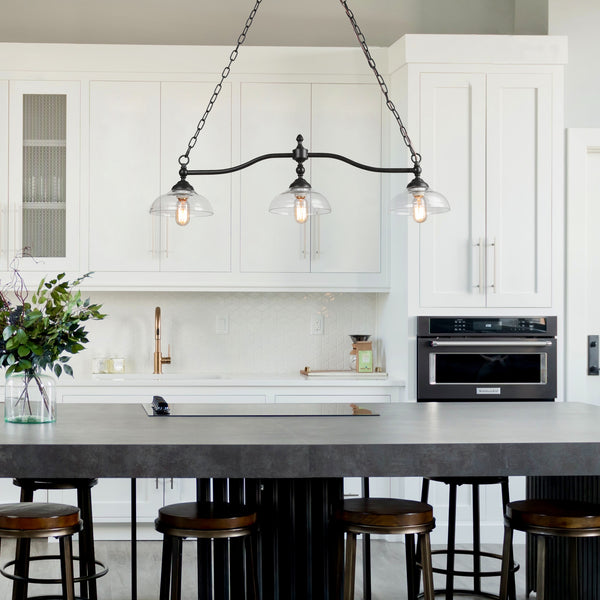 When you are looking for rustic kitchen island lighting the seeded glass pendant light chandeliers with adjustable rod and linear wooden base will give a sophisticated vibe. The 3-light pendant in black metal finish and 5-light pendant in brushed silver finish are accompanied by cylindrical seeded glass shades which perfectly complement the exposed filament bulbs and offer a subtle glow. The 5-light variant is also available in total black metal finish and some ironwork on the rods. If you wish to rely on wooden frames than metal ones, go for the 4-light chandelier with frosted glass shades inside rectangular wooden frame hung by a chain or the 8-light metal and wooden Farmhouse chandeliers. 
The Mason Jar and glass bottle kitchen island light fixtures are timeless creations by LNCHome. Three or five light chandeliers in brushed silver and black finish respectively come with separate metal arms hung from an axis. Linear 3, 4 and 5-light fixtures hung from metal or wooden base with a chain or 3 and 5-light fixtures hung from adjustable chains are quite unique to look at. Linear 3 and 5-light glass bottle chandeliers hung from rods on wooden base offer the same charm. 
Finally, the wooden geometric chandeliers with addition of metal are among the more ornamental kitchen island lights. 4-light chandelier with rectangular wooden and metal crisscrosses frames or 6-light chandelier with a wooden and three rectangular metal frames give transitional effect. The 3-light orb chandelier with metal ring and wooden curves or the 4-light wooden drum chandeliers are among the common examples of intricate wooden work on kitchen island lights. 
Apart from these, there are 8-light wooden beam pendants with adjustable entwining cords, the 4-light drum pendant in antique gold finish and 4-light iron pipe pendants for your kitchen.