Why waste your money on conventional incandescent or LED light fixtures when there are chandeliers in both extravagant and minimalist design, compact ceiling lights, transitional wall lights and more? LNCHome deals with the most unique light fixtures which go seamlessly with rustic, vintage, contemporary and stately household with their metal and wooden buildup as well as the addition of delicate materials like glass and crystal beads. 
You first option can be a coastal flush mount ceiling light with Capiz shells creating a subtle dispersion of light or the 4-light coastal beaded strings chandelier with white, black and grey Agate stones concealing the candelabra dramatically. Relatively greater light dispersion can be obtained with the semi-flush 3-light ceiling light fixtures with handcrafted wooden beads and crystal beads strung together. The 3-light fixture with clear drum-shaped glass shade or the 4-light fixture with industrial bronze drum shade will work excellently for dining tables and living rooms.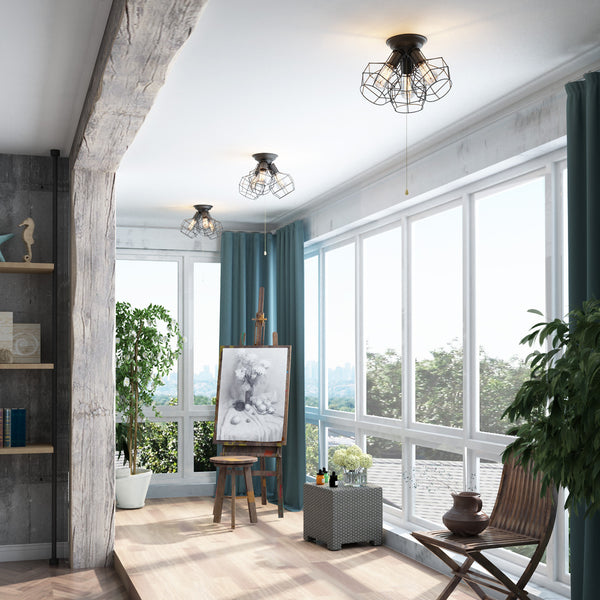 The iron wire caged flush mount ceiling fixtures are available in non-adjustable 3-light fixture with pull string, 4-light fixture facing different directions and adjustable 3-light fixture. Go for clear round glass shade or cylindrical shades for 3-lights or a ceiling mounted frosted dome shade if you want to incorporate glass for lighting in the doorway, laundry room, basement, garage and even kitchen.     
Coming to your second option, just like the semi-flush mounted 3 and 5-light Mason Jar fixtures attached close to ceilings, for kitchen island light fixtures you can check out the seeded Mason Jar fixtures which are available in linear and adjustable height variants. While some come with adjustable rods and chains attached to the canopy, some are hung from iron pipe fixtures. The iron pipe 4-light fixture as well as the linear and adjustable glass bottle pendant looks perfect for your kitchen, so do the rectangular and square chandeliers with linen shades and metal and wooden frame.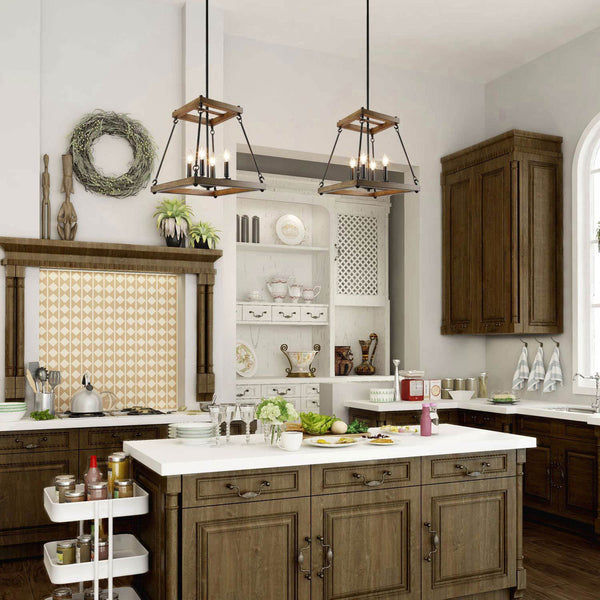 Although the large chandeliers look apt for living room, meeting spaces and bedrooms, a simple chic chandelier like the 11" orb pendant or the metal and wooden caged chandeliers with 3, 4, 5 or 6 candle stems look elegant for kitchen island and dining space adjacent to it. Quite popular these days are the ceiling facing light fixtures with clear or frosted glass shades and you can incorporate them in rustic wooden frames bound by metal plates. 
Extravagant French Country, farmhouse and candle chandeliers are your third option to be installed in living room, seating area and as a focal point of bedroom ceiling. Distressed wood carving is the new statement for chandeliers and you can never go wrong with the orb chandeliers bound by metal ring, the farmhouse drum chandelier, globe chandelier and other geometric wooden chandeliers to create rustic bedroom lighting.  Among the candle chandeliers, quite unique are the 8-stemmed transitional lighting in rust and champagne gold finish, the golden 4-light lantern chandelier, hand-molded antler chandelier and silver-finish wooden chandelier with metal leaves.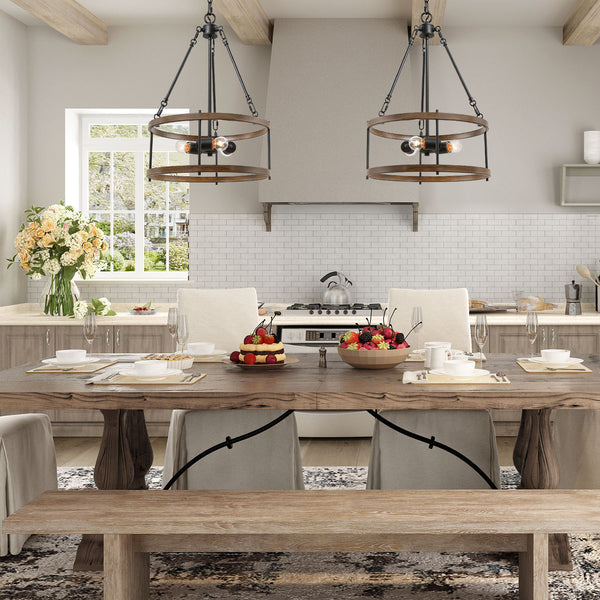 The wagon wheel farmhouse chandeliers with candle stems and bulb fixtures with or without clear glass shades have a vintage royal look, perfect for dining room, bedroom and living room. At the same time, you cannot miss out the 2-tier shabby chic chandeliers with beautifully crafted metal arms and carved wooden axis.   
Outdoor hanging and wall lights can keep your entrance, backyard, patio and garden well lit but for indoor, you need to be extra attentive as there are different rooms and different requirements. While suiting the requirements for the respective rooms, creating a unique statement is all you need.