Ceiling lights are ornate decors that illuminate any living space. Low ceilings are considered as a disadvantage in small spaces, to make them eye-catchy installing flush mounts and semi-flush mounts light fixtures are the idyllic solution. They instantly brighten up any dingy space, a range of these can be found in the LNCHome trendy lighting collection.
Whether you are looking for glam, rustic, classic or industrial style we can find all of these contemporary style fixtures in one place. Perhaps you spend most of your time in the laundry, especially moms of small kids. Then effectively lighting up the room is evident, place a farmhouse flush mount in traditionally designed style. It easily holds three bulbs in a wooden, metallic frame; the Mason jar mimic makes it stand out with exposed illumination through clear glasses. Laundry won't be a poorly lit area anymore; maybe you can install a cozy bookshelf with a tufted rug and a winged armchair to make in a doubled space for reading as well.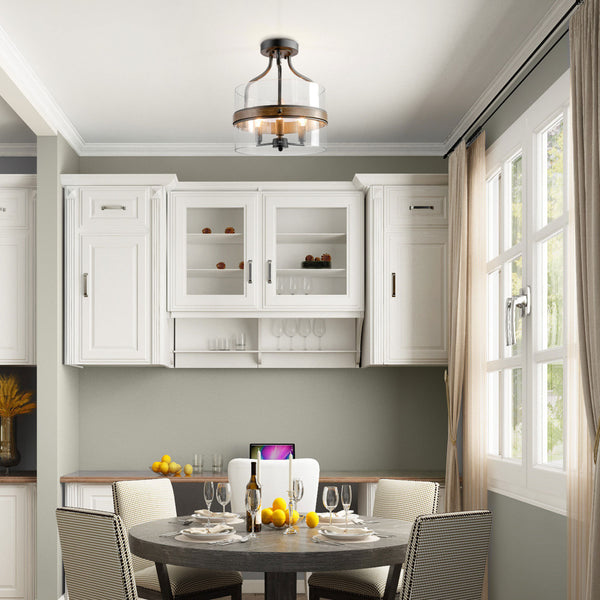 The garage is where all the mechanical magic takes place; it also means an additional office or workshop space. To illuminate the area into a warm, welcoming space install the brown dome-shaped flush mount. Even if the ceiling is low and the garage, maybe at the back of the house in a dark corner this lighting fixture ensures that your prized possessions are well protected. Repairing, melding and fashioning your cars and bikes will now be done without any dim-lit hindrance. If you are lacking office space inside the house, then set up one in the garage will become reality with these flush mount light fixtures.
This frosted glass with black metallic finish flush mount is ideal for soothing the mood of a raised patio or an enclosed balcony. Attractive for entertaining guests in the lounge area during summers and warming the mood during cold dark winter evenings. These lights are eye-candy and blend in with the outdoor-indoor theme; ambient furniture adds glamour and enhances the arrangement of these luxury light fixtures. 
A trendy walk-in closet needs something sensational and alluring, especially if you are a fashion blogger and want to impress your online followers with your taste in decor. The elegant semi-flush mount designed out of distressed wood beads and complete with rustic metallic finish can adorn your ceiling like a glamorous chandelier. Fur carpets and tufted furniture will elevate the value of the walk-in closet plus the illumination from the semi-flush mount ceiling light will dazzle your fashion displays. An instant wow factor for your admirers online and a Carrie Bradshaw moment for a style diva like you.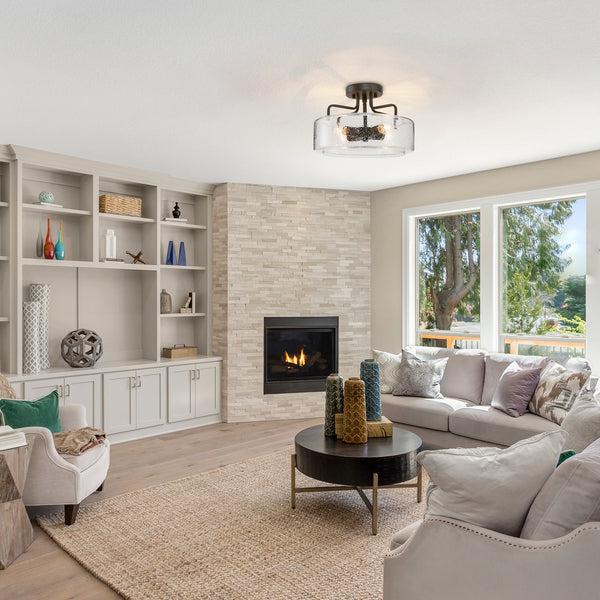 Your vanity area in the bathroom need not be dull and boring; this industrial-chic lighting fixture shaped like a cage globe will add intrigue and sophistication to your morning routines. Semi-flush mount lighting can be installed as a centerpiece or on either side of the huge mirror of the vanity space for task lighting needs. These do not produce glare and also set a refreshed mood with the ambient lighting scheme.
LNCHome is the one-stop lighting fix for all your decor themes, while you are on the hunt to turn your space into an oasis these illuminating fixtures are easy to install and low on maintenance. With affordable discounts, you can shop to your heart's content for the perfect lighting fixture for your dream home.