There might hardly be more classy and stylish color variants for lighting designs than the industrial black or uniform white fixtures. You would generally not like any gaudy lighting for your bathroom but some warm-toned vanity lights for the mirrors or gooseneck sconces on the wall to lighten up the bath area or shower. Going simple yet elegant with lighting is the key to combine style and comfort. Here are your best choices –
Quite unconventional yet useful for your bathroom, the Industrial or Farmhouse styled gooseneck bathroom lighting can be a great option to set up above the bathroom door or above the washbasin in accordance with vanity lights or even above the bathtub. Apart from the brushed grey and white variant, these warehouse sconces have three shades of black variants for the bulb shade such as antique matte brass, antique rust matte brass, and antique black. These rustic sconces can be durable and classic substitute for the delicate vanity lights with glass shades.
For a more minimalist look, you can choose the Industrial Gooseneck sconce without shade and only the bulb fixture. The large bell-shaped shade in some wall sconces can offer a focal point to any section of the bathroom. You can easily combine these lights with a delicate vanity lighting to create some contrast or go full rustic with the set of two black gooseneck sconces for both sides of the bathroom mirror. For some out-of-the-box bathroom lighting ideas, check out the pipe-shaped metal wall sconces which look excellent with exposed filament bulbs. If you have a small mirror and don't wish to install two such sconces on both sides, go for the set of two or three pipe-shaped light fixtures on a wooden panel that perfectly complements the black finish of the fixtures.
Coming to the elegant glass shades for a spacious bathroom with large vanity mirror, you will have two choices –either go for two aged silver wall sconces with seeded glass shades opening downwards or install a 2-light light sconce at the top of the mirror. If the mirror is placed over wide sink space and bathroom storage, you can also consider placing two vanity light fixtures of 2 lights on both sides for sufficient lighting.
White metal frame and white silver fixtures on a wooden panel or black metal fixtures on black metal frame –both work excellently with cylindrical or conical, seeded or clear glass shades opening downward for a spotlight-like look. If you want soft dispersion of warm light reflected from the ceiling, the upward-facing 2, 3 or 4 light fixtures can be great options.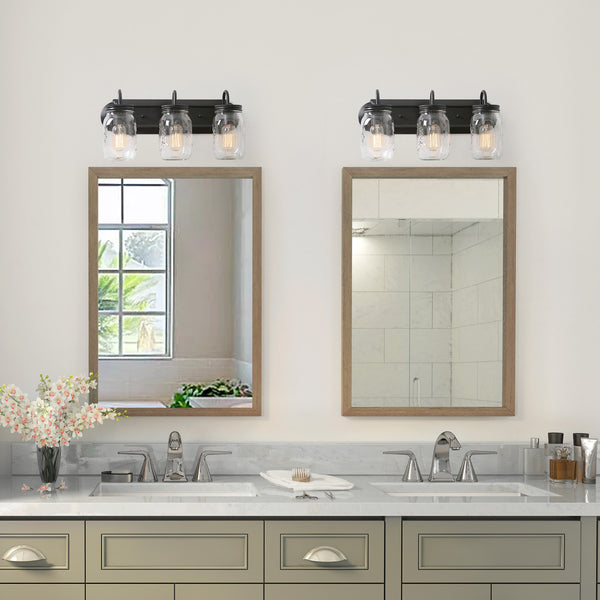 Downward-facing bulbs in closed Mason Jar bathroom lighting fixtures with black metal finish can be your best options if you don't want to spend time in cleansing the bulbs or shades at regular interval. Available in both clear and seeded glass variants, these fixtures can be set up above the mirror, on two sides of the mirror, above the sink, overlooking the bathtub and even above the toilet area. You can choose the individual fixture or check out the set of two or three fixtures according to your requirement.
As a matter of fact, both black and white works excellently with any type of bathroom setup –be it a rustic tropical themed one with indoor plants or a contemporarily styled one with modern accessories.