A cozy candle light dinner with your loved one, a family get-together over a hearty meal or even a friends reunion over meal and drinks needs a perfectly organized tabletop. However, without proper lighting the entire ambience is marred and you might have to strain your eyes or have your food elsewhere followed by an awkward situation. Pendant lights for your dining space and Kitchen Island are not only for lighting purpose but also for ornamental purpose so that the dining and cooking area looks bright and stylish at the same time.
Farmhouse Pendant Lights For A Rustic Touch
Those having a country style décor for kitchen and dining space can check out the farmhouse pendant lighting which offers a vintage and rustic vibe through warm dispersed lights. The 14.6"x4.1" Mason Jar light with adjustable 59" chain can be hung from flat, sloped and vaulted ceiling effortlessly, so can the Glass Bottle Chandelier light with 72" cord. Another Mason Jar Pendant light option can be the 6.7"x3.9" variant with woven 14.7 feet cord that can be adjusted according to the size of kitchen island and tabletop.      
Give a classic touch to your tabletop with the foyer wooden and wood metal farmhouse geometric pendants that come with four upward facing chandelier as centerpiece of the frames having dimensions of 19.7"x24.6" and 21.7"x24.2". Suitable for both flat and sloped ceilings, these chandeliers can be adjusted to maximum height of approximately 84". The 4-light Faux Wood Chandeliers with 20" width can also be great choice if you are looking for something elegant.
If you are looking for rustic pendant lighting for Kitchen Island, the rust caged Pendant lights can be excellent options. From handcrafted spiral iron cage to pine wood and black iron frame with X-patterns, from silver-brushed geometric finish to cylindrical faux wood and heavy-duty metal coils –there are numerous designs to lighten up your dining space. The 3-light rust foyer cage, faux wooden oval cage and drum shaped metal cages are also excellent choices from LNCHome to complement your dining table ambience.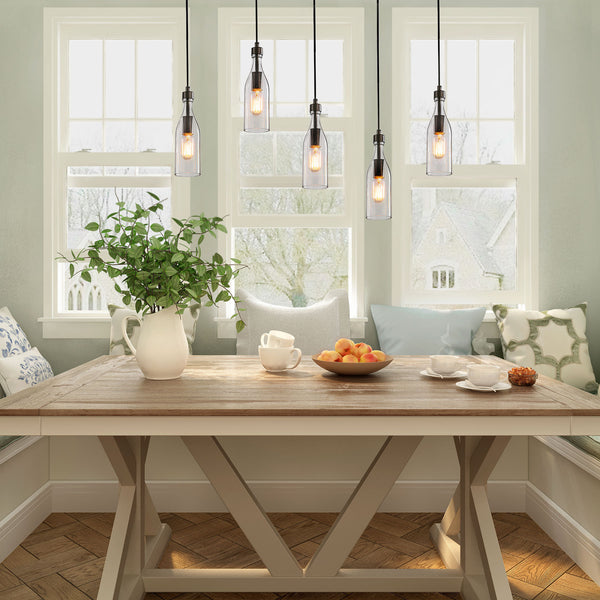 Ornamental Touch With Transitional Pendants   
For your decorated dining area or modular kitchen island, the transitional pendant lighting can be never wrong because these offer both style and sufficient brightness. Check for example the adjustable Spider Pendant Transitional Chandelier with 10 lights offering a modern chic look. This Edison style industrial lighting has black cords which can be mounted with the help of clips from any distance and in any height so that experimenting with variegated look is possible.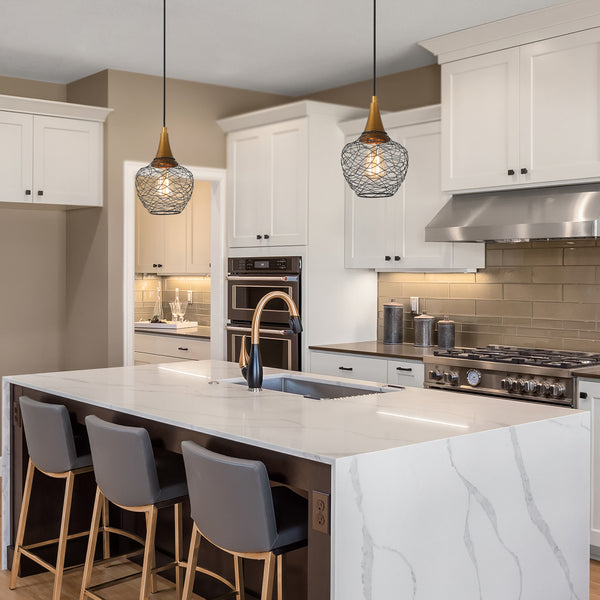 Two or more metal cage hanging pendants, upward facing cylindrical pendants and light champagne golden wire caged lights can be hung from different heights as pendant lights for kitchen. The rustic wooden crisscross frames coupled with bronze metalwork can complement the beige linen cover surrounding the warm light so that you can enjoy your culinary work or dinner in peaceful ambience. Also check out the mesh caged pendants and the transitional pendants with dome glass shades for a cozier experience.
If you want simple pendant lighting, you can also hang the wooden pendant with bell shaped clear glass shade, the bronze warehouse pendant or the rust ceiling pendants. LNCHome has various types of lights with different fixtures and frames to suit all types of decor and choice of homeowners.