Your bedroom tends to be your most private space and hence, its ambiance also requires being more comfortable and more cheerful than any other rooms. While there is a requirement of lights for the overall ambiance, bedside lights or bedroom study table lights are also equally important as many out there enjoy reading at night on the bed or do their important work on the study table. Instead of consuming excessive electricity with tube lights or large chandeliers, why not invest downward-facing the wall sconces from LNCHome which are not only energy-efficient but also cost-effective. Besides, according to the bedroom décor, you can choose the perfect ones from the large varieties of scones collection.
The combination of glass and metal always works efficiently when you want to add a delicate touch and seek the convenience of usage. The swing arm adjustable wall sconces lights with clear glass shades can be swung upward and downward, thanks to the adjustable brass joints. These can be either hardwired or installed as a plug-in model with the 2.3' cord and on-off switch from the ceiling as well as a sloped wall.
Another variant of swing arm sconces has vintage brass colored joints, steel construction, and hardwiring accessories. This scone is suitable for dry atmosphere and the bulb used in it can be dimmed. If you are not up for glass shades, check out the scones with silver brushed, champagne golden and matte black shades.
If you are looking for modern wall sconces with swing-in arms, the industrial steel lamp with black round iron shade can add a nostalgic touch to the overall ambiance while offering the convenience of adjusting sconces arm. It can be used as both plug-in scone and hardwired one. For your bedside, go for the pack of two mini black sconces with upward and downward swinging arms made of sleek steel. Both these sconces can be hardwired and plugged in as per your choice.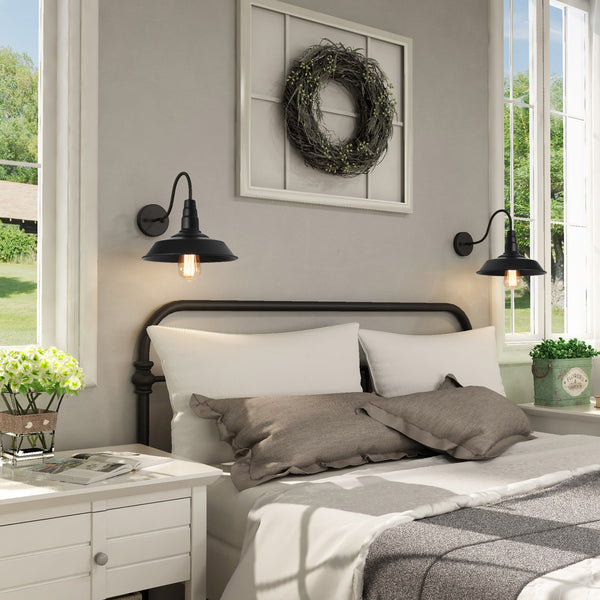 The transitional 1-light scone from LNCHome has a circular steel frame holding the exposed filament bulb that is hardwired and is suitable for dry interior. With a bronze finish, it shows off upscale elegance of New York while emanating a rustic and nostalgic vibe. Your bedroom mirror can use two unique wall sconces made of bronze metal with a dimension of 11.4"x5.3". The cylindrical amber glass shade offer warmth to the room and especially the mirror, helping in your dressing up. The industrial black steam punk birdcage model can hold both 5.3" and 11.9" lights to heighten the chic appeal. With two bulb base, you can use dimmable bulbs both in the horizontal and vertical direction.
For decorative wall sconces from LNCHome, you have the industrial accent sconce with flexible bronze joint for ease of adjustment of the sleek compact glass blub. Another perspective choice can be the hardwired one with gooseneck steel arm offering a minimalist design or the black cone-shaped sconce that can be tilted up and down with the directional joint for adjusting fixture. The iron sconce with matte black dome-shaped shade and adjustable brass joint and the rust metal caged sconce can also be great options of downward-facing wall lights for your bedroom.
Apart from these, you can also check out the simple gooseneck downward-facing scones with various dimensions, shapes like bell and color variants like barn gunmetal, rust, rust matte, antique black, industrial black, industrial metal, antique brass, brass matte,  white and distressed blue.