No matter how big or small your kitchen is, an immaculate setup and some brilliant lighting for the kitchen island can revamp the overall style of your culinary abode. Due to grease, smoke and other types of mess followed by cooking, many homeowners avoid elegant lighting fixtures and end up making their kitchen look duller than other rooms but LNCHome can solve this problem with its array of kitchen island light fixtures that look good, are sturdy and can also be hung from vaulted, sloped, slanted and plain ceiling effortlessly with adjustable chains or rods.  
If you are not up for glaring bulbs and want something subtle, the rustic wooden and metal adjustable farmhouse kitchen island lighting with clear glass light shades will be great choice. The rectangular of square vintage wooden frames are contrasted by black metal plates on four sides and there are 3, 5, 6 and 8 light variants. You can choose either the ceiling facing fixtures on metal stands or the downward facing 3-light fixture with iron net. In this context, you should also check out the rectangular and square 3-light antique chandeliers with antique black metal and crisscrossed wooden frame surrounding the beige linen shade.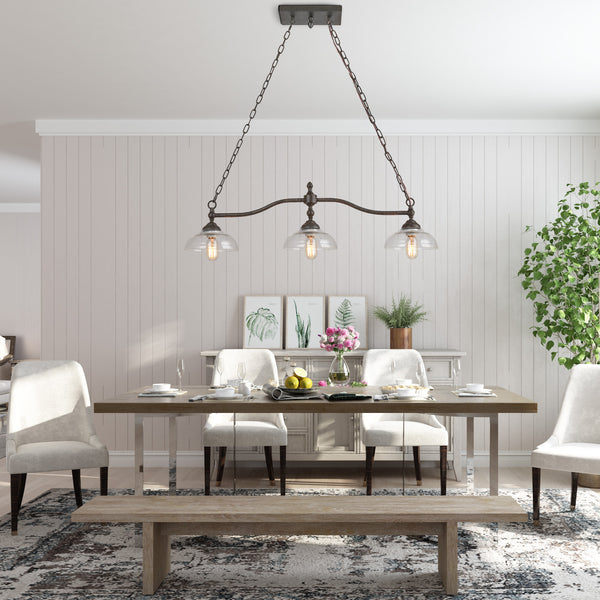 The 8-light wooden beam pendant can be a game changer in your kitchen island with its unique design where the cords of the bulb fixtures are entwined around the beam according to your wish and requirement of height. In ornamental kitchen island lighting fixtures, you would love the 4-light drum pendant in antique gold finish where the metal accents create a vintage look. The 12-inches chandelier with 4 candle stem fixture inside the globe in wrought iron finish would also create a sober spotlight feature above the kitchen counter.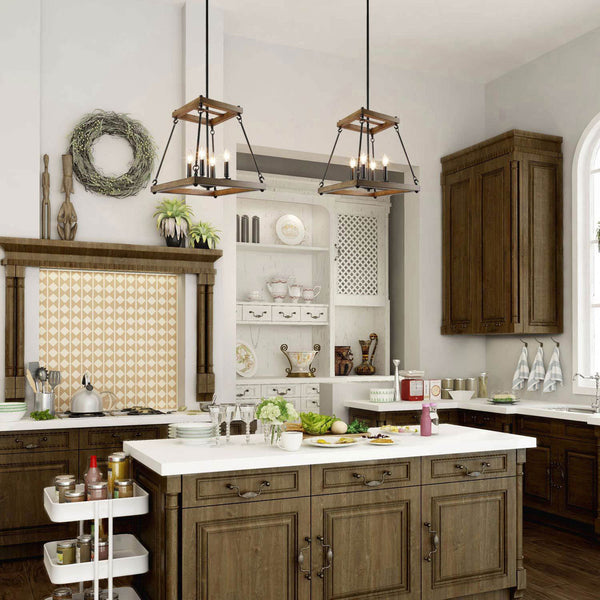 Distressed wooden geometrical light fixtures are quite in trend these days for their unique handcrafted woodwork and different shapes which perfectly compliment rustic and contemporary kitchen islands alike. Just like the metal globe pendant, you can consider the 11" wooden orb chandelier with one light fixture or the 1-light distressed wooden pendant, both with crisscrossed round and rectangular panels. 
However, you need to choose farmhouse island lighting with 3, 4 and 6 light fixtures if you want light dispersion for a large space in the kitchen, say, for example, a dining space adjacent to the kitchen. The 4-light candelabra fixture with two wooden and metal crisscrossed frames or the 6-light chandelier with one distressed wooden frame and three matte black frames would offer a rustic chic appearance.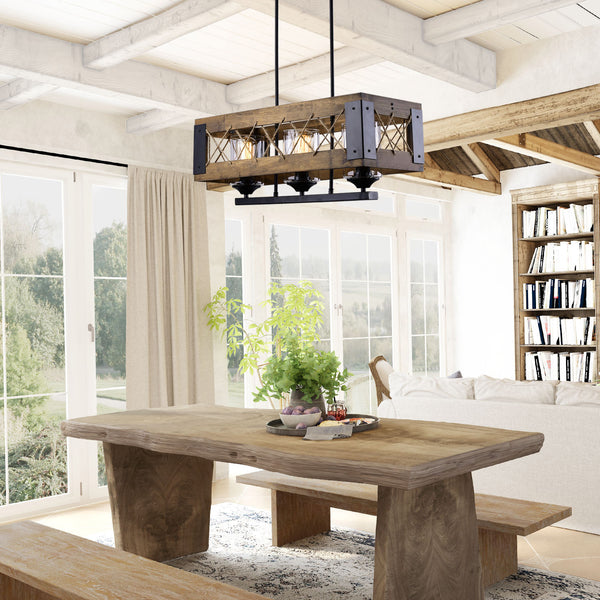 The 3-light orb chandelier with brushed metal ring surrounding six wooden curves, the 4-light geometric wooden chandelier with metal edges and the white wooden drum chandelier are the rustic choices of light fixtures you can incorporate for the island. Metal and wood can create uniquely sophisticated rustic kitchen island lighting, for example, the 16" modern pendant chandelier with three fixtures facing three different directions or the 4-light faux wooden chandelier with rectangular and square frames. 
Linear and non-linear Mason Jar light fixtures with seeded glass as well as the clear glass bottle linear chandeliers will be most maintenance-friendly for your kitchen island. At the same time, you can also check out the cylindrical clear glass 3-light and 5-light pendants or the frosted glass cylindrical light fixtures on metal or wooden bases. Cages light chandeliers and metal pipe fixtures are also excellent options for your kitchen.