Only ceiling lights are not sufficient to create spotlight features or highlight a particular area of the room, be it a bedroom, bathroom, kitchen or living room. From rustic goose-neck wall sconces to elegant Mason jar fixtures, from swing-arm fixtures to wire caged sconces –there are various choices in LNCHome so that you can find the ones suitable for your rooms. While some households look good with metal fixtures, some incorporate fixtures made of wood or glass to create a rustic-chic look.
Among the most innovative and convenient wall sconce lighting fixtures are the adjustable sconces which can be moved side-wise, upward and downward according to your requirement. One of the variants is the 1-light fixture in an industrial bronze finish which supports antique exposed filament bulb on a flexible joint that can be moved at 900 angles. Another option is the industrial black sconce with conical shaped shade attached to a flexible brass joint which gives a vintage look and directional lighting. For your vanity mirror, the upward and downward moving iron dome transitional wall sconce with brass joint, round dome shade and adjustable accents can be a great option.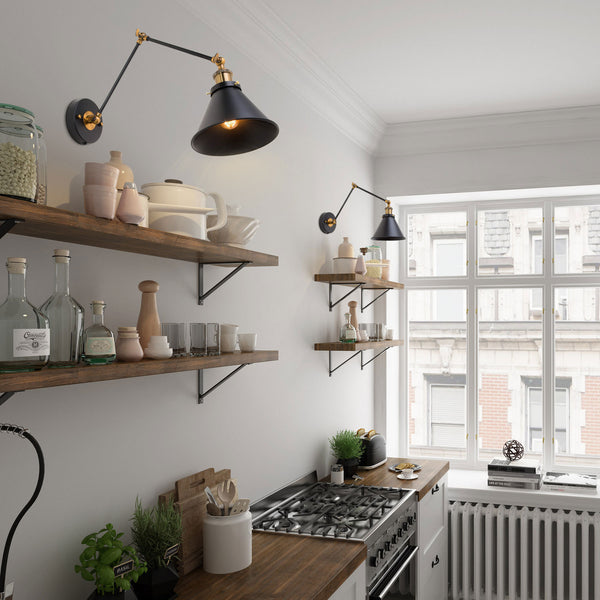 If you are looking for kitchen or bedroom wall lights, the up and downward moving swing arm sconces can be the most flexible options. These fixtures are hardwired for usage in a dry area and have a plug-in system with a long cord so that turning on and off the lights become easier. One of the classic designs is the fixture with black matte shade and antique brass joints which look best in a sophisticated household. For a more laid-back setup, you can check out the fixtures with brushed silver and champagne gold Finnish. If the metal bell shades look conventional to you, there are clear glass shades in the brass and black metal finish as well as brushed silver finish.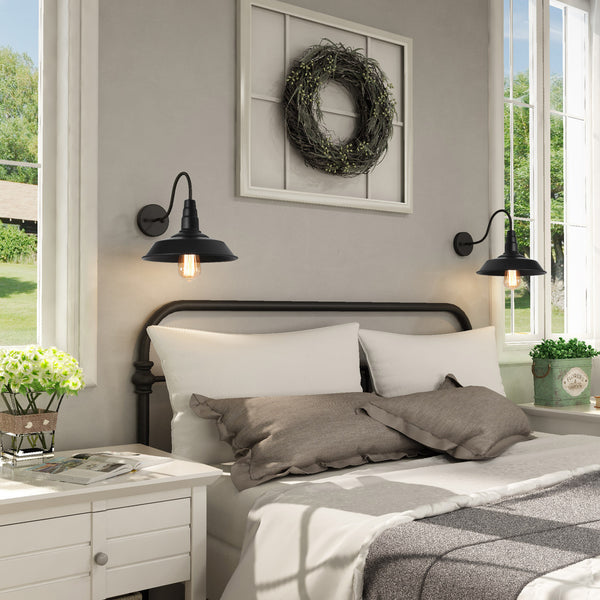 Those who want more vitality in the usage of these modern wall sconces, the pack of two industrial black sconces will be of great help especially to those who have a habit of reading or working on the bed. With a dimmer switch, you can adjust the glare while the three screws on the swinging arm make it easy to move. The versatile 1-light swing-arm wall lamp sconce with dome shade and metal ring can be hardwired or plugged in as per your convenience and its retro industrial design creates a nostalgic vibe.
The exposed filament bulb fixture with round frame in bronze finish emanates the elegance and nostalgia of uptown New York while the bronze metal decorative wall sconces with frosted cylindrical glass shade have both traditional and contemporary vibe in a way that you can consider putting two of such in the hallway or on both sides of a mirror. In this context, you can also consider the rustic Goose-neck metal cap sconces which are available in various color variants like industrial black, brushed silver, warehouse white, barn gunmetal, antique brass matte, rust matte, and vintage blue.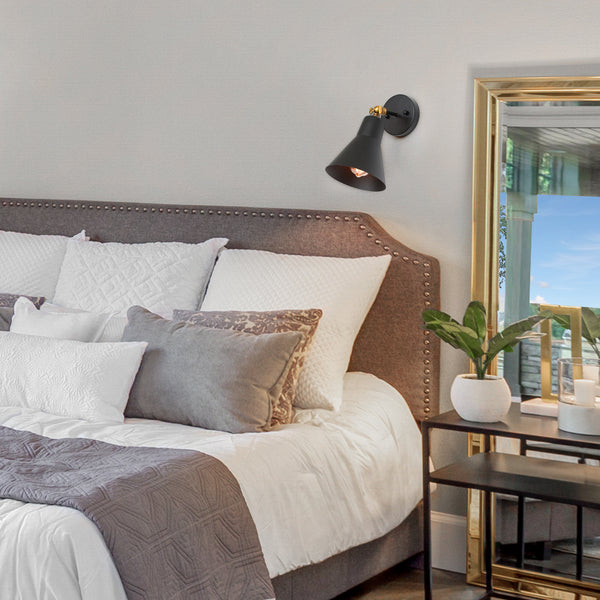 Besides, for bathroom and vanity mirror, the goose-neck sconces with a bell shade, the mini cage sconce in an industrial rust finish and seeded Mason Jar sconces (single or 3-light fixtures) with hooked arm would be suitable options. Also, look out for the Industrial Steampunk wire caged 2-light fixture that can be hung vertically or horizontally and the wooden candelabra base with two candle fixtures that would look great on a living room or bedroom wall.