The Victorian and Elizabethan era was famous for extravagant lighting fixtures from ornate chandeliers to delightful vanity lights for the dressing mirror, which played a significant role in lifestyle. Lifestyle is changed now but the necessity of spending time in front of the mirror or garnishing delectable dishes in the kitchen has not changed. Besides, with the emergence of a new decor style for your house, track light fixtures can be of great help in highlighting the decor items.
Firstly, coming to the semi-flush single ceiling track lighting, you can choose the adjustable mounts in various shapes of light shades like cylindrical, bucket-shaped and dome-shaped. Suppose you wish to create spotlight feature within a small space or highlight a small decor piece on the wall, it will be better option to go for a single light fixture instead of three or four light fixtures as they not only cost greater but also take up more space on the ceiling.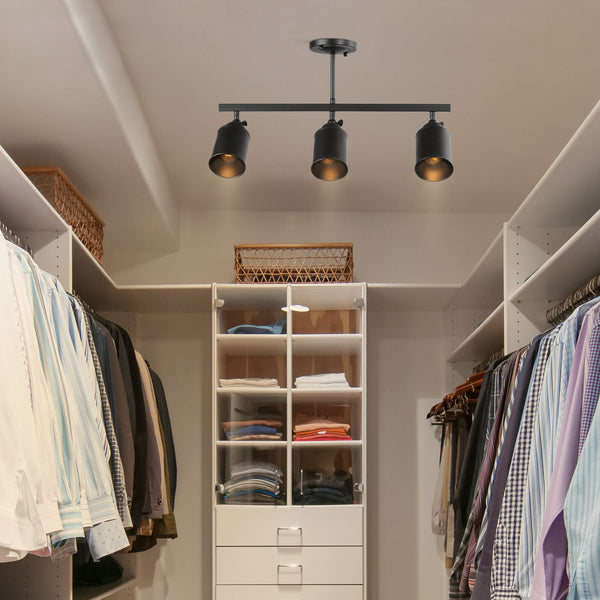 The dome-shaped 5.1"x5" dark grey finished iron fixture is hardwired for dry interiors and offers one directional light. The cylindrical 5.1"x4.7" rich black finished is another option that can be converted into semi-flush ceiling fixture or wall sconce by using the hardware and can offer a focused beam with the addition of Edison bulb. The bucket-shaped 10.3"x5.9" ceiling mounted track lighting with wooden canopy and rustic industrial steel body can also be converted to wall sconce and semi flush spotlight fixture –the adjustable heads offer maximum stability.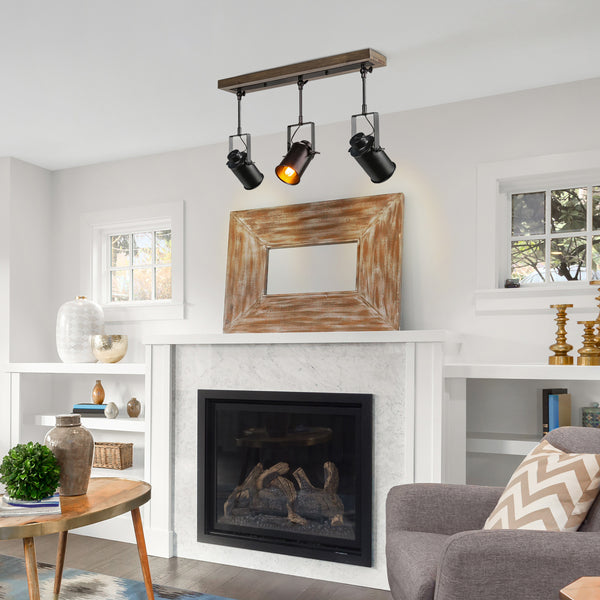 The dome-shaped and bucket-shaped shade variants are also available in 2-light fixtures in dimensions respectively of 5.5"x13" and 10.3"x15". Hardwired for dry indoors, these light fixtures made of steel have dark grey finish and the two shades can be twisted forward, downward and backward as per your choice. For your study room, kitchen island, doorway, bedroom, and vanity mirror, these semi flush ceiling track light fixtures can be used as directional lighting from both ceilings with wooden or metal canopy and from the wall as a sconce.
The 3-light fixtures are excellent options for dining space, kitchen counter, bar area, for living room in case you want to highlight a large section of wall-hung decor and also study room as it will lighten up the entire bookshelf. If you are looking for dimmer compatible light fixtures, the 10.3"x24.8" fixture with rectangular wood canopy and three independently adjustable heads, the 13.6"x22.5" bullet-headed split rail fixture with round metal canopy and the dome-shaped 5.5"x28" hardwired semi flush fixture can be great options.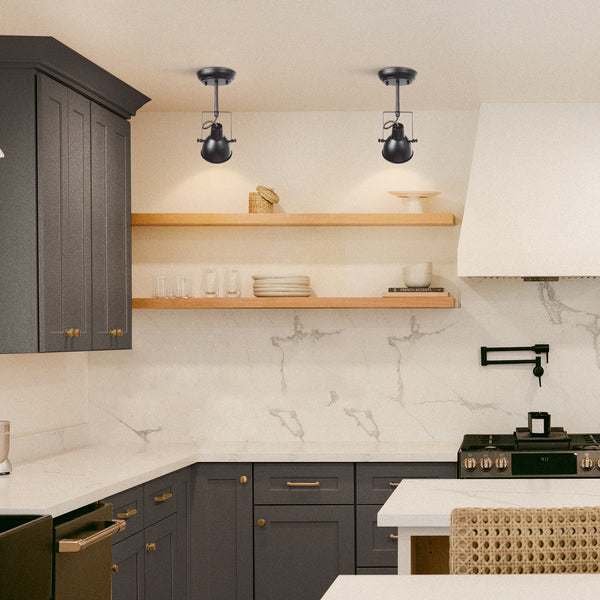 Those looking for ceiling track lights for kitchen would love the 12.2"x24.8" Split Rail Track Luminaire in black metal finish. Whether you choose to install them on the wall against the ceiling or kitchen counter or hang them from the ceiling above the island, these semi flush mount fixtures of small canopy height would offer adjustable directional lighting from the metal bars.  
Ceiling lights are indispensable parts for the household lighting and the track lights can create a focal point at a certain space while the flush mount and semi flush mount lights are for ornamental purposes and offer light dispersion in a larger space.