From rustic countryside cottages to beachside houses, from upscale contemporary houses to vintage styled houses –proper lighting is mandatory to every household. Many house owners have an inclination towards the elegant wall lights but as a matter of fact, these lights often fail to lighten up the entire room or create a focal point around a certain area. The ceiling lights, on the other hand, can be your one-stop solution to create a spotlight feature as well as offer sufficient brightness to the entire area. Here are the three most important lighting fixtures that can give your household a vibrant dimension.
Taking inspiration from the bygone royal era, the rustic French Country Chandelier from LNCHome can simultaneously give your home a sophisticated and vintage look at the same time. Suitable for your meeting area, living room, bedroom, and even dining area, these chandeliers come in many variants –while some are all metal, some have wooden scrolls and some have both wood and metal combination.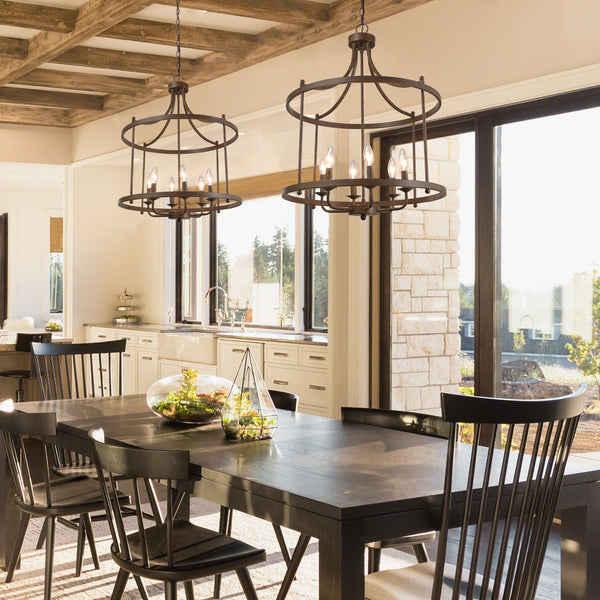 As for the living room, meeting area or bedroom lighting fixtures, there are many extravagant choices such as the distressed wooden 2-tier chandelier with handcrafted wooden danglers hung from eight candelabra fixtures or the 9-light candle chandelier with wooden beaded chains. If you are planning about dining area or kitchen island lighting, the 3-light rust metal chandelier with rust metal finish or the 6-light Farmhouse chandelier with crystal danglers can prove to be a convenient choice.
For a simplistic charm, go for the wagon wheel designs with six candelabra hung from adjustable metal chains or the shabby chic antique white chandelier with six candle fixtures. A unique style quotient can be made with the 6-light shabby chic bowl chandelier and the 6-light silver finish wooden chandelier, both of which suit contemporary and rustic home décors.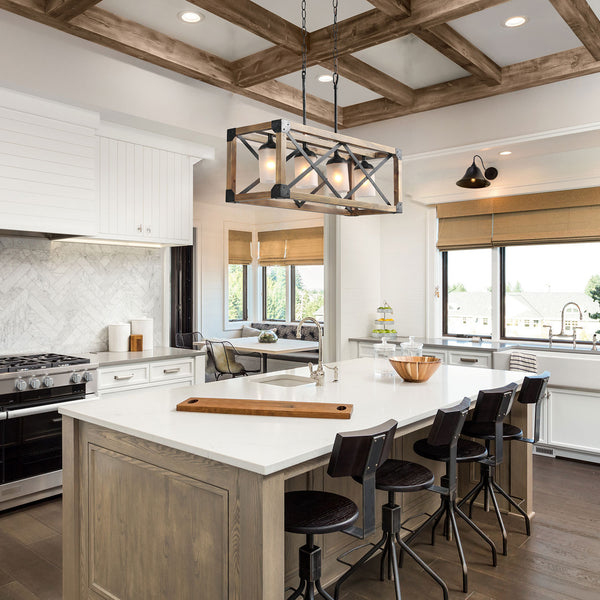 The oval and rectangular faux wood and metal caged kitchen island light fixtures are quite in trend now as their 3-light and 5-light fixtures respectively can be hung with the adjustable chains from different heights according to the ceiling type. Creating a focal point with warm and soft dispersion of light is possible with three light transitional pendants that offer a sturdy design in metal frames around beige linen shade.
At the same time, nothing beats the nostalgia created by the Mason Jar light fixtures that are available in adjustable and non-adjustable designs. You can also choose the 8-light pendants in frosted glass shades affixed on faux wooden frames if you want an indirect reflection of lights from the ceiling. Linear glass bottle chandeliers and 4 or 6-light pendants with black metal and distressed wooden crisscrossed frames are also popular choices.  
Your third option would be the outdoor hanging lights that come with seeded glass shades to give a look of raindrops on glass. Check out the black metal lantern with metal scrolls surrounding the cylindrical shade or the black metal rectangular lantern with obscured glass shades –both of these offer a rustic vibe to your outdoor patio, porch or balcony. If you want a more delicate fixture, go for the dimmer-compatible traditional pendant with a seeded glass shade or the Globe Pendant with bubble glass shade inside an iron cage.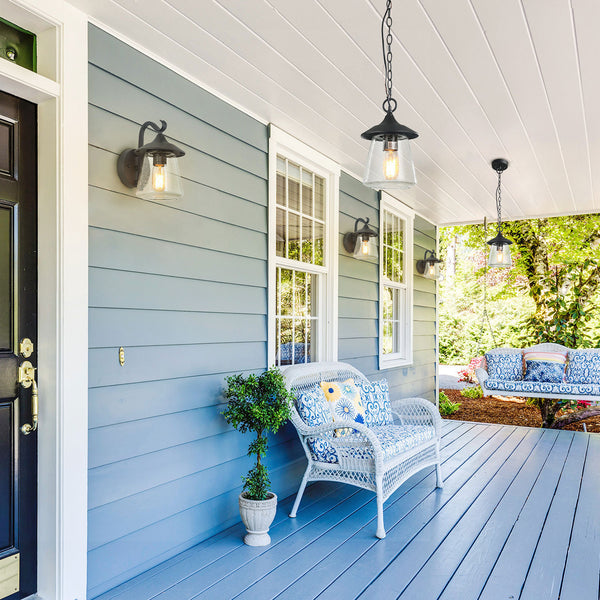 While patio or balcony needs proper outdoor lighting for outdoor seating facility and security, the kitchen, bedroom, living room, porch, bathroom too needs hardwired lighting fixtures. With proper maintenance, the glass, wood and metal parts of the light fixtures would serve you for years to come.