Decorating the living room can be quite exciting as it is the heart of your house and both the occupants and the guests gather here for leisurely activities or hearty chitchat. From lavish chandeliers to the old-school candle chandeliers, from small pendants to transitional semi-flush mount lights –there is an array of choices for your living room lighting from LNCHome. You would love to add light fixtures that match your living room decor and if you are a bit edgy in your choice, there are many contrasting light fixtures that would complement the room decor. Either wood or metal, or both wood and metal –in terms of construction also you have many options and while the wooden fixtures suit a countryside cottage, the silver or golden fixtures are for more sophisticated urban households.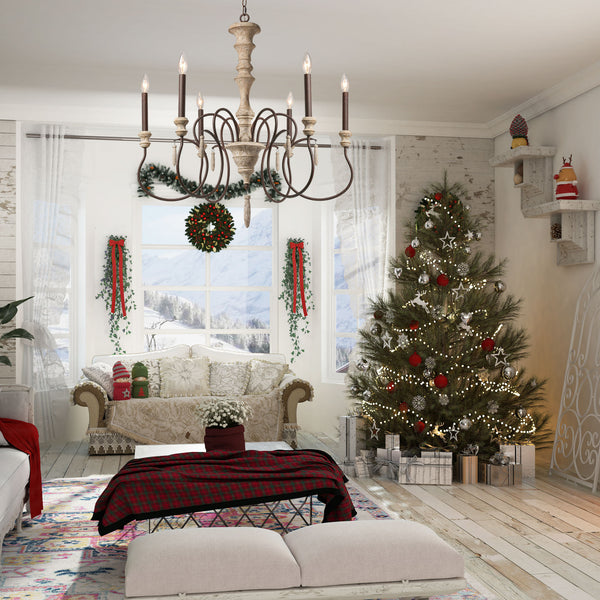 One of the most versatile light fixtures can be the shabby chic french county chandeliers which are characterized by the distressed wooden columns. Handcrafted wooden detailing looks both chic and antique while the rust-finished metal accents give the chandeliers a new dimension. If you find the traditional chandeliers a bit conventional for your choice, go for the 6-light rustic bowl-shaped fixture with intricate metalwork at the base or the antique white 6-light fixture in minimalist design. A two-tiered chandelier with handcrafted wooden danglers or a 7-light wood beaded chandelier would add excellent detailing to your ceiling lighting.
Go a bit unique with the farmhouse chandeliers which are a bit less detailed than the shabby chic chandelier but have different materials and contemporary designs. Take, for example, the 9-light pendant with intricately carved leaves in rust finish which comes in shape of a blooming flower and gives a natural flair to the living room. If you thought, wagon wheel chandeliers were for dining area, check out the 6-light farmhouse chandelier with candle fixtures or metal fixtures with glass shades.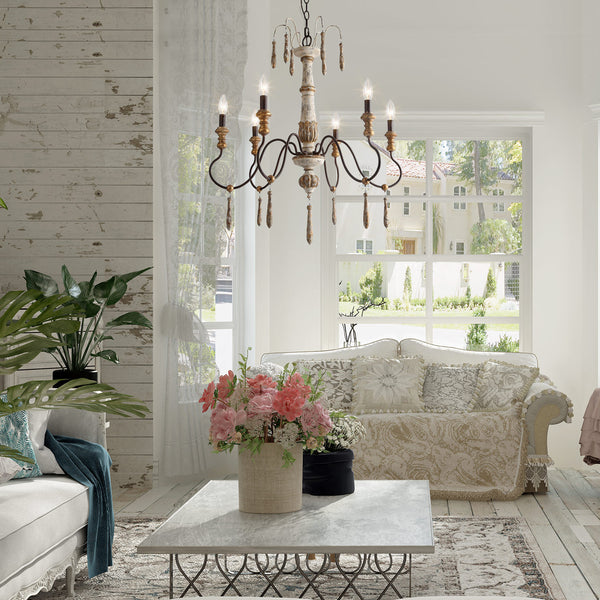 Mini chandeliers can be your best options if your living room space is relatively small and you don't want to clutter the ceiling with extravagant lights. However, for larger rooms, you can install a mini chandelier to create a spotlight for the seating area. Give your living room lighting ideas shape with the transitional Capiz shell chandelier to create a light and shadowy ambiance of the candle chandelier in all-black or rust finish with 3 or 5 light fixtures. At the same time, you can also play with a little bit vibrancy by installing the 4-light antique gold pendant in an intricate drum shape.
Candle chandeliers can give your living room the charm of the bygone era as their candelabra shaped light fixtures offer a vintage look in a contemporary design. These are also types of French Country chandeliers with the distinct candle-dipping stems that hold as many as nine lights. Choose the rustic french country chandelier with U-shaped two-tier designs or in curved rustic two-tier designs with wooden danglers. There are numerous styles of candle-holders available in LNCHome and that too with a different metal finish such as industrial black, rust and silver.
Also, consider the Semi-flush mounted ceiling lights with distressed wood and crystal beaded strands or the 3 and 5-light Mason Jar fixtures for a warm dispersion of light within a small area. The metal drum caged or cylindrical glass shaded light fixtures can also be great options for a unique ambiance.