Bathrooms are now not only limited to your washing or bathing purposes but also for dressing up and makeover. From trying out clothes to applying some make-up, from shaving to cleaning your hands and face –the bathroom mirror plays a significant role in catering to your vanity. However, without proper vanity lights, all these jobs can be quite tricky because the lights not only highlight the mirror and sink area but also offer a soft light dispersed in the entire room.
Coming first to the exposed filament bulb fixtures without shades, LNCHome has the bathroom wall sconces in shape of pipes to match the overall water supply fixtures for the bathroom. However, that does not make the sconces less stylish –on the contrary, these fixtures in black or silver brushed metal finish offer a rustic look. Those who do not prefer glass shades due to regular maintenance requirements can check out the fixtures with a round metal panel or rectangular wooden panels affixed on the walls.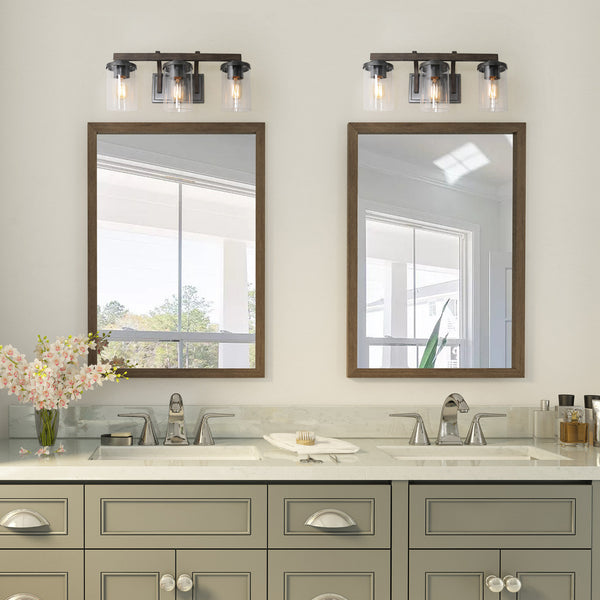 The bathroom wall lights with wine glass shaped shades can be incorporated individually on either side of the mirror or above a small mirror. The sconce with an aged silver finish fixture is a non-dimmable fixture and is compatible with dry surroundings while the sconce with antique silver finish is compatible with a dimmer switch to let you adjust the brightness conveniently. If you want more brightness or have a relatively larger mirror, go for the 2-light wall sconces with seeded glass shade and scrolling ironwork on an oval backplate.
Upward-facing vanity lights can offer an excellent reflection of warm lights and if you want a uniform reflection of light in the entire bathroom, check out the two, three and four-light fixtures with seeded cylindrical glass shades. You can either choose vanity lighting with a distressed wooden panel or the ones with only metal frames or even the frames with wood and metal combination. Faux wood, uniformly black, distressed wood or brushed antique silver –there are different color variants to choose from according to your bathroom setup and wall paint.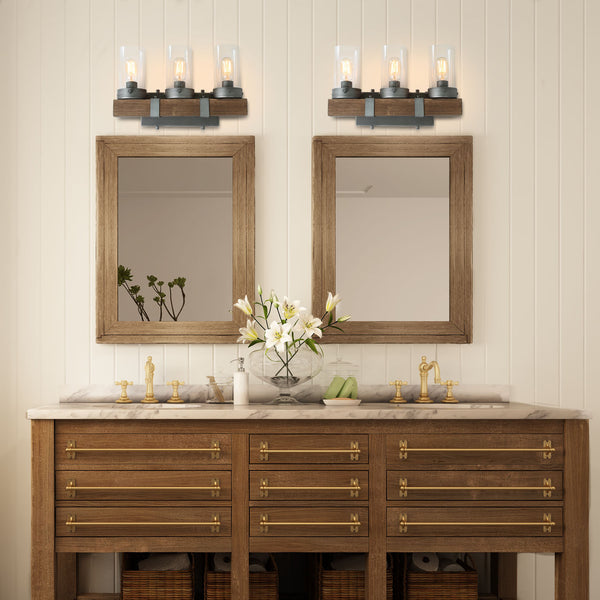 For creating a focal point and highlighting the mirror and sink area, the downward-facing wall sconces with clear cylindrical glass shades will work best. The three and four-light fixtures with faux wooden panels affixed on metal attachments can give a sophisticated look. However, you can also choose the bathroom vanity lights with conical clear glass shades for two and three lights attached with a distressed wooden panel surrounded by an aged silver frame.
Finally, coming to the Mason Jar wall sconces, you can choose the individual light fixtures with hooked arms or pipe fixtures on a round panel affixed on the wall for a small mirror. Place two such fixtures with seeded glass jars on two sides of the mirror or go for the two and three-light pipe fixtures in black metal or aged silver finish to be installed above. You can also choose the industrial black finish 3-light Mason Jar fixture with a hooked arm for a more elegant and contemporary look.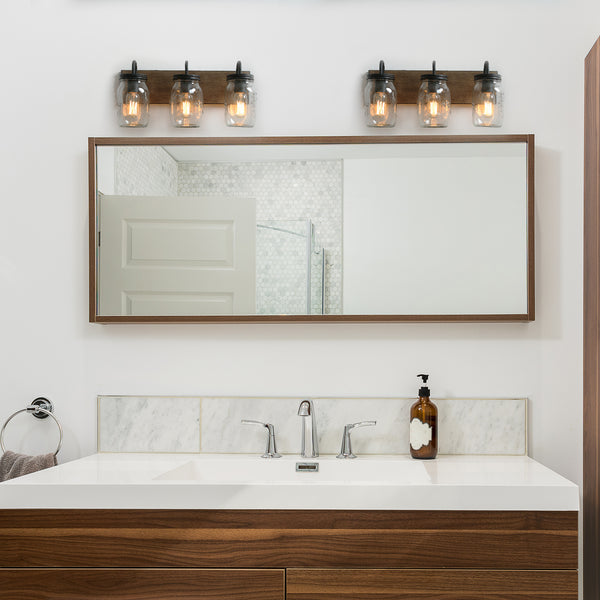 Glass shades have always been in trend and LNCHome brings some of the most authentic light fixtures by incorporating different shaped shades. Wooden frames and metallic fixtures can make both the shaded lights and exposed filament bulbs look stylish as ever.