In your entire house, the bedroom is undoubtedly your safe heaven where you can cozy up on your bed and read a book peacefully or enjoy your cup of coffee while checking mobile. Here you can try out different dresses, accessories and makeup in front of the mirror without being interfered. At the end of the day, this is where you enjoy some time with yourself or talk freely with your loved ones. Workaholics would definitely be familiar with the idea of working on the study table or on bed with the laptop in the bedroom. All these chores and relaxation becomes complicated without proper lighting in your bedroom –LNCHome's collection of chandeliers, pendants and wall and ceiling lights can give your decor inspirations for a charming makeover of bedroom. 
A flush mount ceiling light can give your bedroom an overall brightness without taking up much space or looking too extravagant for a cozy ambience. The rustic farmhouse vibe is evident from the 4-light wire cage ceiling light that comes with a pull string to turn on and off the lights. The three lights are closely attached, meaning that they create a spotlight feature. If you want light dispersion throughout the room, go for the 4-light fixture in which the cages face four different directions or the adjustable 3-light fixture in which you can change the lights' directions.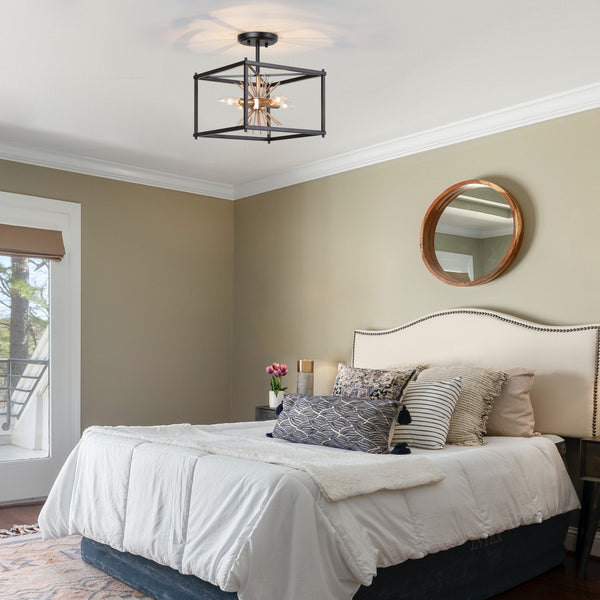 Coming to sideways or walls of the bedrooms, the best bedroom light fixtures would be the wall sconces –some of these are non-adjustable with gooseneck fixture while some come with swinging arm or joints. Different colored metal or clear glass bell shades for the swing-arm plug-in fixtures offer a study-lamp styled look and can be moved upward and downward or at 90-degree angle. 
Get three transitional wall sconces with or without shades and place those on both sides of the bed or the dressing mirror to create vanity lighting. The swinging joint fixtures with metal shades work equally efficiently like the vanity lights with Mason jar or glass shaped shades. Among , track lights and vanity sconces in water pipe fixture, on aged silver bases and on metal and wooden panels can offer you sufficient brightness and warmth as you stand in front of the mirror. The cylindrical metal shades are distinct features in track mounts while upward or downward-facing glass shades are specialty in vanity fixtures.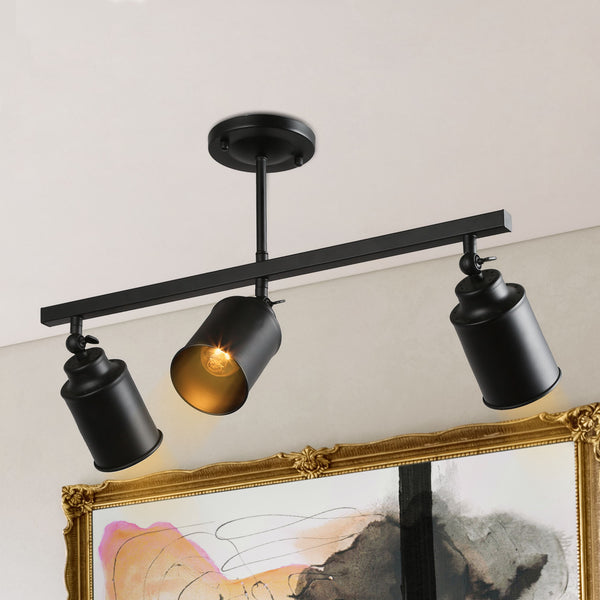 Awesome substitute to intricate chandeliers, the semi flush mount 3-light fixture with distressed wood and crystal beaded strings will look great just above the bed. However, you cannot ignore the fact that for rustic bedroom lighting, the faux wooden wagon wheel lights with candelabra fixtures resemble that of the Farmhouse lighting. For a more rustic look, go for the one with rope holders rather than the metal chain holders. Create some drama with the white capiz shell transitional pendant or the metal leaves pendant and if you want natural touch, check out the geometrical wooden mini chandeliers or the wooden orb chandelier with crisscrossed rings.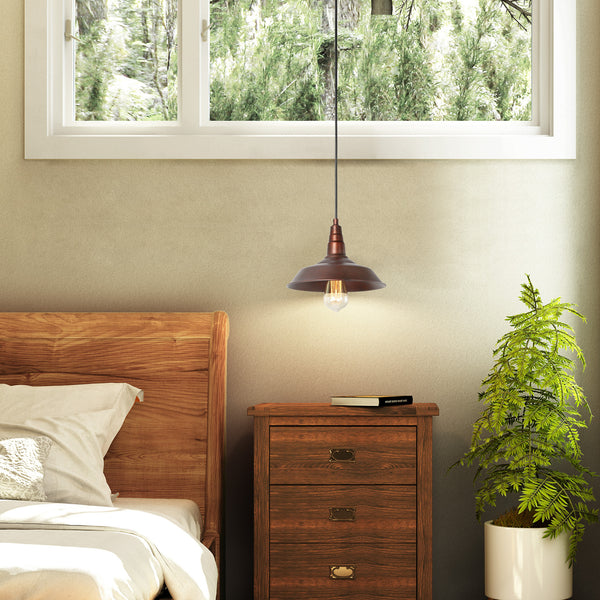 On a ending note, keep in mind that there is no strict rule on which lights to add in your bedroom, meaning that you can easily incorporate a hand-molded antler chandelier or a 5-light French country chandelier with scrolling arms and danglers in your room. Be creative, mix and match with different elements and create your own style of decor and lighting.