The kitchen tends to be greasy or oily and shoots often get stuck up in the nooks and corners of the light fixtures –this is why intricate chandeliers that are used in living rooms sconces used in the bedrooms are not suitable for your kitchen island. LNCHome has thus categorized an array of island lights that have durable metal, wood and glass construction so that cleaning and maintaining them is easier on a regular basis. At the same time, these lights have their unique charm which makes them equally stylish and aesthetic like the lights in other rooms. These lights are hardwired and suitable for both dry and wet surroundings as well as compatible for vaulted, slanted, sloped and flat ceilings of the kitchen.
One of the most unique kitchen island lighting fixtures is the Farmhouse wooden hanging island lights which are available in 3-light, 5-light and 8-light variants –needless to say, according to the size of your kitchen counter, you can choose any variant. These upward-facing lights inside clear glass shades the placed on an iron base which is surrounded by a rectangular wooden frame in a way that the lights are visible from below.
However, if you want the bulbs concealed for a softer dispersion of lights, go for the rustic wood and antique metal Transitional Pendants. You can choose the smaller sized square shade for smaller kitchen counter or the 9.4"x25.2" rectangular shade for larger counter –both of these kitchen island light fixtures have crisscrossed wooden panels on the linen as complementary to the beige colored shades. You can also go for the 6-light Rustic Pendant that is surrounded by hexagonal water glass shades in wooden and metal frames if you prefer glass shades over linen ones.
The rustic wooden pendant chandeliers with eight ceiling-facing lights inside frosted cylindrical glass shades on a rectangular wooden frame can be the most upscale lighting options you can incorporate for Kitchen Island. Those with small-sized counter can look out for the 4-light rustic kitchen island lighting inside a wooden rectangular frame or the linear seeded glass shaded 3-light pendant on the wooden bar while those with the relatively larger island would find the 5-light pendants in a black or rustic wood finish useful.
Linear, non-linear or adjustable height Mason Jar and glass bottle pendants are probably the most nostalgic and vintage island lighting you will find. From 3 or 5-light chandelier styled Mason Jar lights to multi-pendant 3 and 5-light transitional lights with adjustable height –there are a number of variants in the glass bottle and Mason Jar Lights. Rectangular or oval caged farmhouse kitchen island lighting is another trend for kitchen lighting although you need to clean the metal and wooden bars regularly to avoid the accumulation of mold, shoot, and grease.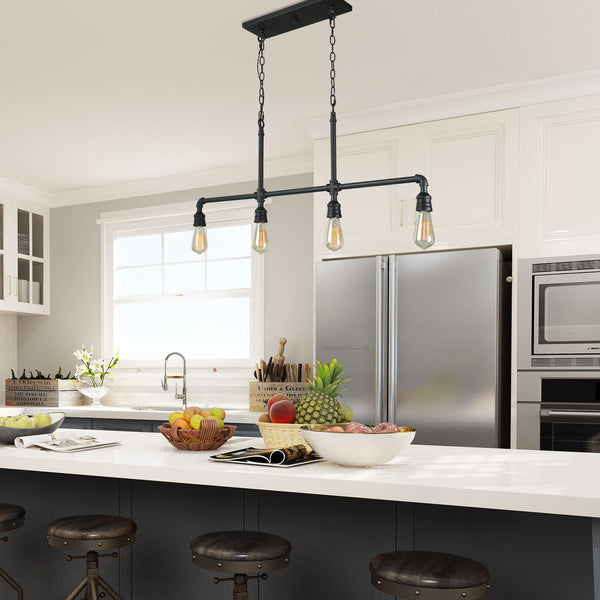 Among the most intricately carved light fixtures, the drum pendant 4-light fixture in antique gold finish or the 6-light chandelier with rectangular matte black metal and distressed wooden can be suitable options for larger area coverage. The geometrical wood and metal chandelier with 4 light or the adjustable 4-light candelabra with crisscrossed rectangular metal and wooden frame would be suitable for covering small areas.
Last, but, not least, you can blend minimalist approach with aesthetic vibe through the 3-light chandelier with dome-shaped glass or black metal shades as well as the industrial iron pipe pendants with 4 exposed filament lights.