Your wellness and cleanliness therapies take place in the bathroom daily at different times –the bathroom being clean, hygienic and with proper lighting are important to make your job easier. No matter how many stylish and advanced bathroom accessories you have added in the bathroom or how sophisticated it looks with sleek tiles and shelves, when it comes to lighting, not many people know what to install. Soft and warm lighting that illuminates the entire bathroom space while highlighting the bathroom mirror will offer you a peaceful ambiance.
Vanity lights are used for vanity mirrors only to compliment your reflection as you dress up, apply cosmetics or indulge in some trimming. According to the size of the mirror, you can choose the wall sconces of 2 light fixtures in seeded glass shades for a complete look. Place the lights above the mirror and while the warm lights brighten up the mirror, you cannot but appreciate the scrolling forms and ironwork on the oval backplate. If the size of the mirror is slightly larger, getting two wall sconces to attach on both sides of the mirror might be better idea than installing lights above. Available in antique silver and aged silver finish, these glass vanity sconces are compatible with a dimmer switch.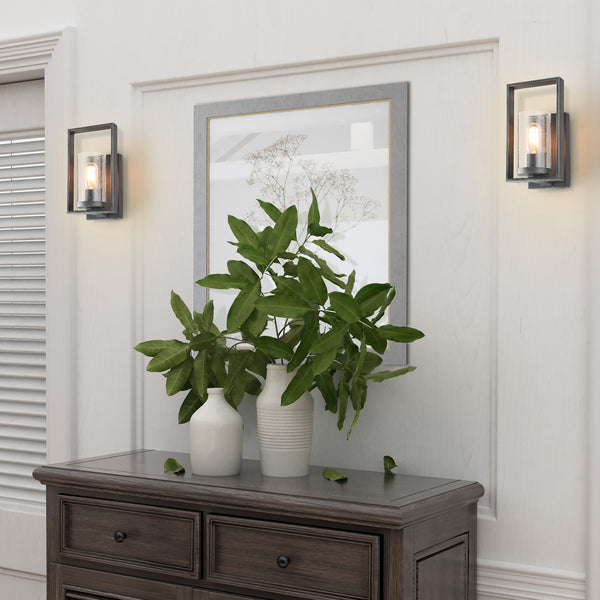 Create timeless classic ambiance with the seeded Mason Jar vanity light fixture which faces down to the mirror and thus can lighten up a large area surrounding the mirror. As these are hardwired lights, it is better not to install them near the shower or sink. However, the transitional scones with revolving arm can be effortlessly used near sink mirrors if you adjust them upward or front-facing. Just like the light fixtures with glass shade, this variant is also available in set of three on metal or wooden fixture, set of two on wooden frame as well as the single fixtures to be installed above small sized mirrors or on both sides of moderate-sized mirrors.
For some out-of-the-box bathroom lighting ideas from LNCHome, you can check out the rustic water pipe wall sconces which are hand-painted in distressed grey color or industrial black metal finish. The exposed filament bulbs are downward facing and have no extra glare, thereby adding some vintage drama to the bathroom. The lights are taller in shape and the Individual lights look better when fixed side by side above the mirror or on two sides of the mirror. The frames for the set of two and three lights of these variants are available in wood and hand-painted metal –choose the one that suits the overall bathroom setup.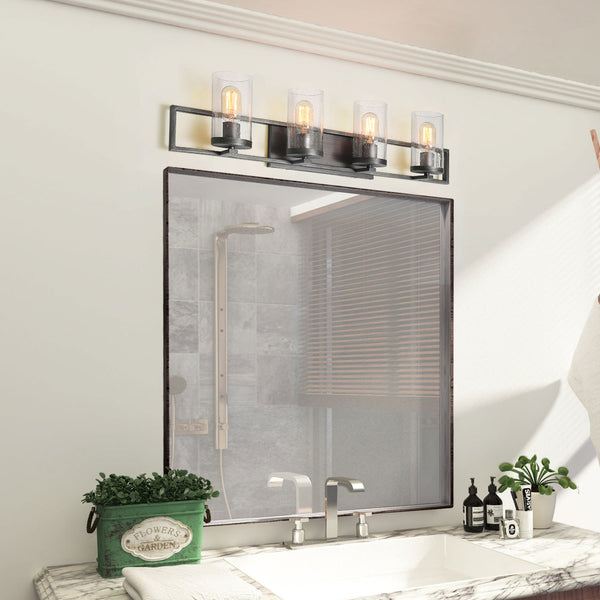 If you prefer clear glass shades for bathroom light fixtures, there are set of three and four downward-facing fixtures with faux wood frame and cylindrical shades as well as distressed wooden fixtures with aged silver frame and conical shades. If you want even dispersion of lights, go for the upward-facing distressed wood and brushed silver fixtures with two, three and four lights.       
There are a number of vanity wall sconces offered by LNCHome –some facing ceilings, some facing the floor while some are designed especially to set up on or beside the mirrors. The plain-looking conventional light bulbs no longer serve the purpose of stylish lighting because now, people love light fixtures made of wood or metal.