Be it a lavish chandelier or simple flush mount light, rustic pendant or unique wall sconce –the choices are many when you are decorating your home. From bedroom to bathroom, kitchen to the living room, patio to the doorway –lights are required for every room and while you cannot compromise on brightness, the look is also an indispensable feature. Black metal finish is an evergreen feature for lighting fixtures and in recent years, the popularity of rust, silver and golden finish for the fixtures has risen. In terms of construction too, you have unique distressed wood and metal chandeliers which are often complemented by beads, crystal danglers, seeded or clear glass shades, and shells. Quite strategically, for both rustic and contemporarily styled houses, LNCHome has light fixtures that are fresh in style and attractive to onlookers. 
Coming to farmhouse chandeliers, four ceiling-facing candle stems in brushed silver finish look perfect in compliment with the farmhouse lantern chandelier that has two rectangular wooden frames fixed in a crisscrossed way. This variant is also available in a smaller size where you will find a downward-facing bulb fixture. The 9-light farmhouse leaves chandelier will add a new dimension to your living room and bedroom with the rust-finish intricate leaves creating the look of a blooming flower.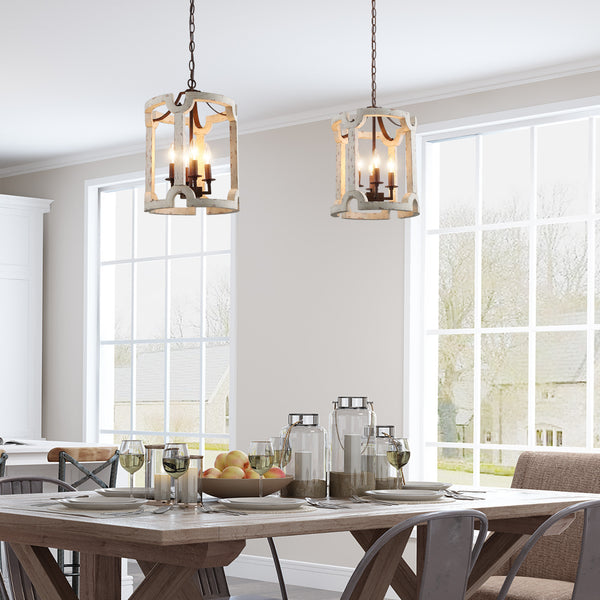 Another signature rustic farmhouse chandelier feature is the wagon wheel which is available in many styles such as the 6-light fixture with rope wrapped around steel, the black metal fixture with glass shades, grey finished adjustable fixture with metalwork in the wheel and of course, the hand-molded antler entwining the metal wheel. 
The geometric wooden chandeliers with various shapes are really unique to look at and among these, you should consider the industrial globe chandeliers which are available in 3, 4 and 5 light fixtures. While some globe chandeliers have the shape of orbs with round wooden rings fixed in a crisscrossed way, some have the addition of brushed metal rings around the globe to create a more rustic look.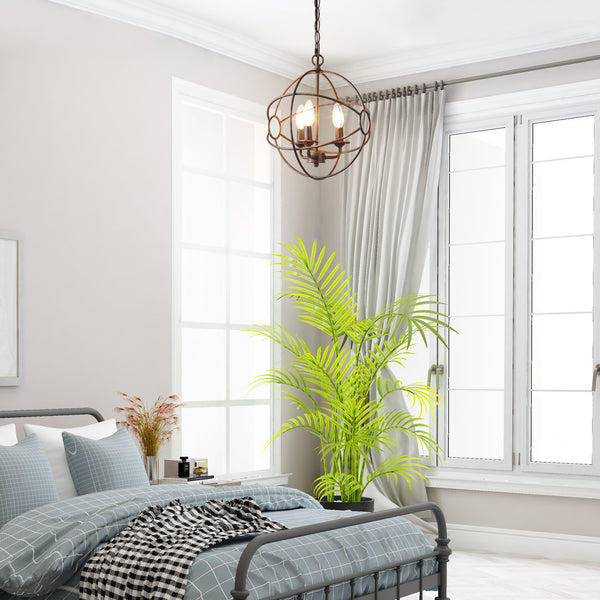 Among rustic French country chandeliers, you can never go wrong with the single and two-tiered fixtures having a distressed wooden axis and rust metal arms twisted in the most breathtaking way. If you want some Midas touch in your room, why not go for the modern gold chandelier with eight champagne gold candle stems rising upward in the right angle with the axis? Another option for the dining area will be the 4-light French country lantern chandelier with three crisscrossed golden frames surrounding the white candle stems.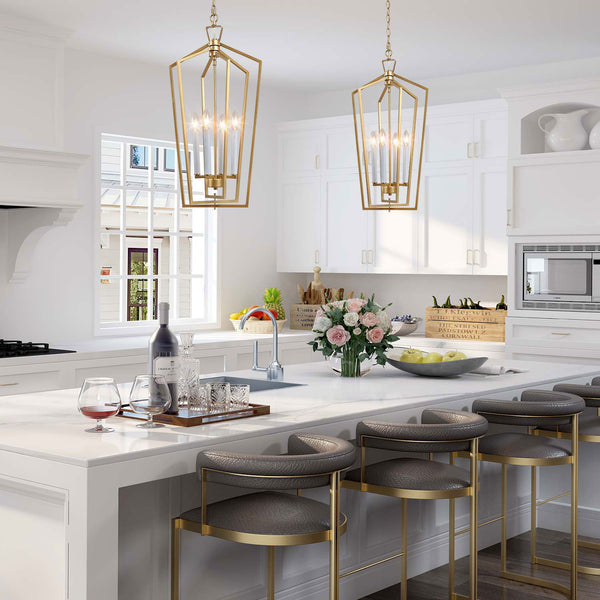 To create more detailing, you can check out the shabby chic chandeliers with handcrafted aged wood danglers or those with wooden beaded strings hanging from the canopy. The beaded basket candle chandelier, coastal agate stone beaded chandelier, and the capiz shell mini chandelier will be perfect for a beachside or countryside cottage. For your kitchen island, a cylindrical, rectangular, oval or drum chandelier with metal and wooden panels have a strong appeal. On the other hand, a modern chic spider pendant with nine adjustable light fixtures or a 4-light antique gold pendant would serve you right for the dining space adjacent to the kitchen. 
Creating your unique signature lighting depends on how effectively you utilize the light fixtures according to your household. While extravagant chandeliers never go out of style, the Mason jar or cylindrical glass chandeliers have a completely different look to make way for nostalgia.