Just because you spent probably the least time in bathroom doesn't mean the lighting should be moderate or underrated. As a matter of fact, this is where you spend time cleaning up, getting ready, freshening up or grooming yourself –so, proper lighting is always a concern you cannot ignore. Mostly used in this category are the wall fixed vanity lights that can lighten up the vanity mirror, shower compartment, toilet, basin, bathtub and other particular sections accordingly. 
If you are looking for bathroom vanity lights to highlight small area, go for single fixtures with cylindrical bubble glass shades. You can install these lights on either side of a mirror or above a small mirror or go for two such single fixtures and place each on each side of the mirror. The black metal sconce with rectangular base and rectangular frame offers an upscale look while the distressed wooden sconce with brushed silver holder offers a rustic look.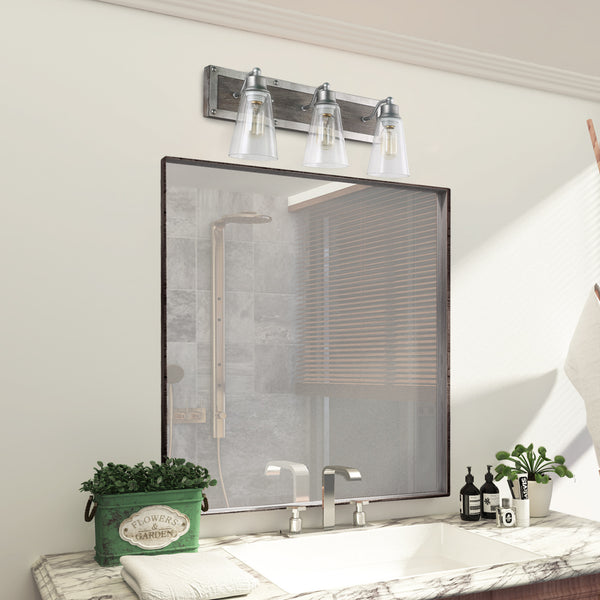 Mason jar sconce with black metal hooked arm fixed on a round base or distressed silver base has more or less the same charming appeal as the aged silver and antique silver finish fixtures with wineglass-shaped shades. However, if you want fixtures that literally match bathroom setup, there are water pipe sconces with rectangular antique silver base and round aged silver base.  
2-light bathroom sconces can be placed on either side of a mirror or above the mirror, shower and bathtub if you have a smaller space. These variants are available in Mason Jar, bell-shaped downward-facing shades, cylindrical upward-facing shades, wooden exposed filament fixtures, water pipe fixtures and wineglass-shaped shades to suit every bathroom setup. 
When you have a large bathroom with wide space for toilet, bathtub, shower and washbasin, three and four light fixtures will be perfect choices for you. Coming to cylindrical shade variants, the 3 and 4-light fixtures have different types of bases like faux wooden panel against a rectangular base, distressed wooden beam against brushed silver base and wooden or metal frame against rectangular base. The gooseneck bathroom lighting with seeded Mason Jars look as stylish as those with water pipe holders. 
The downward-facing bell shade fixtures take contrast to a notch higher with the brushed silver bulb holders and frame surrounding an aged wooden panel. The exposed filament bulb fixtures in black finish against antique wooden panel also create a vintage minimalist look. However, the most intricate metal work is featured on the 2-light wall sconces with wineglass-shaped shades which have brushed silver curved arm holding the bulbs from the handcrafted oval base. 
Finally, if you thought that chandeliers are only for living room, meeting spaces and bedrooms, check out the bathroom chandeliers from LNCHome. The Mason Jar chandeliers used for kitchen island can work effortlessly as ceiling fixtures in your bathroom. Besides, the 6-light farmhouse black metal chandelier with simple curved arms holding candle stems can be an excellent choice to hang above the bathtub or washbasin. With adjustable chain to suit bathrooms of different ceiling heights, this chandelier is also dimmer compatible to let you adjust brightness.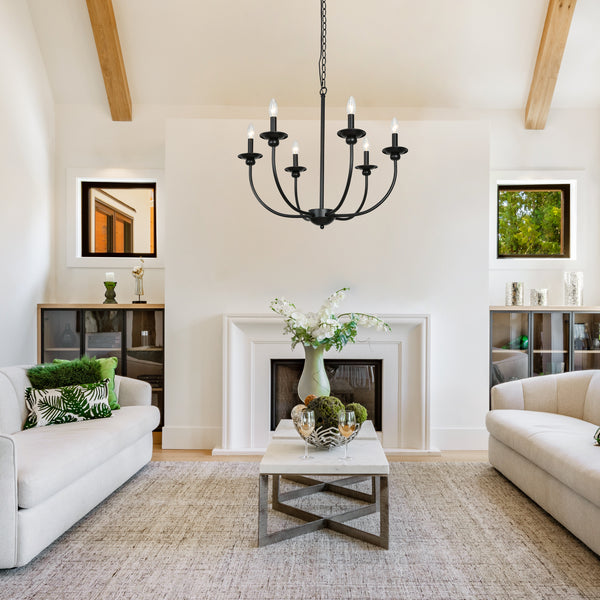 When you have put up stylish tiles, wall colors, bathtub, frosted glass shower room and other stylish bathroom accessories, you need equally stylish lighting fixtures that have a feel-good vibe and sufficient brightness.