A chandelier is an exquisite piece of jewelry for any living space, the shape and body of it comprise of delicate and intricate artwork. An opulent chandelier works well for a majestic space, whereas if you have a tiny space and yet want to add some rustic glam then choosing French country chandeliers is an ideal option.
When you are looking to illuminate the whole of the dining space, then installing a set of these shabby chic bowl shaped chandelier will give a gothic touch. The intricately designed ivory candle-like a holder for the bulbs looks similar to skeleton fingers. The metal pattern gives it a unique distressed style, excellent for Halloween party decor and interior themes that love mystery and intrigue.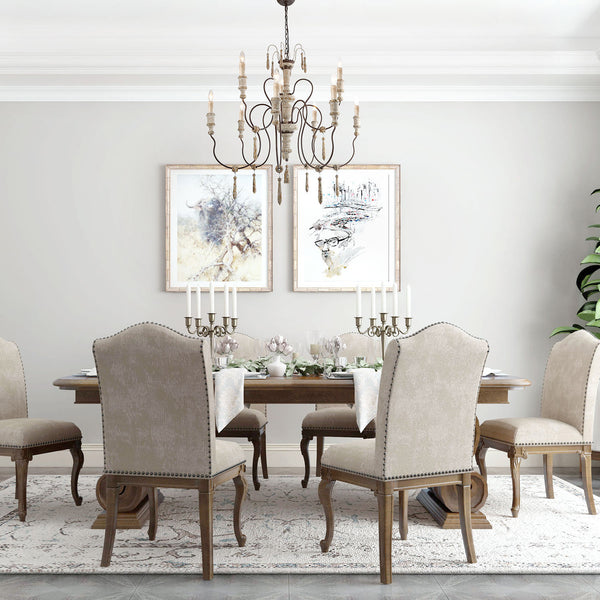 The fireplace is identifiably a cozy area for reading and snoozing continues feeling the warmth even when it's not wintering with the silver finish wood chandelier. A dramatic centerpiece for the ceiling above, the silver body emulates low key sophistication. The six sockets fashioned like candle holders illuminate the space with a smooth glow. Neither too bright nor too dim the light drawn from these modern chandeliers set soothing vibrations for repose.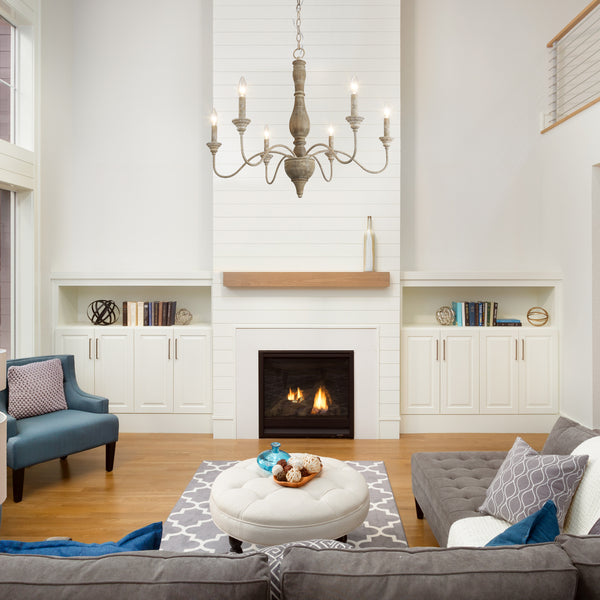 Pale color scheme or soft wallpaper combined with ambient lighting is the perpetual answer for a darb hallway. Painting the walls in white and hanging a metal finish rustic chandelier comes as a convenient substitute for natural lighting. Its near figurine like design looks feminine and is crafted with steel and resin. The antique white scroll-like handles are inspired by conventional European light fittings. A graceful eye-catching elements that attracts one's attention straight to the ceiling as soon as one gets into the home. Individuals who live in narrow terraced houses or compact modern apartments can embrace this design trick to eliminate dark corners.
Chandeliers for bedrooms conjure up images of luxurious furnishings and beddings along with flat or vaulted ceilings. Few of them have exposed brickwork or wood beams running parallel with distressed wooden floor work. The country-style modishness can be preserved by hanging wood beaded chandelier that dangles from a neat chain work. It throws enough spotlights to an expansive headboard or a tasteful collection of artwork in the bedroom. It comes in the right dimension and makes space look airy and introduces the country chic personality of the room.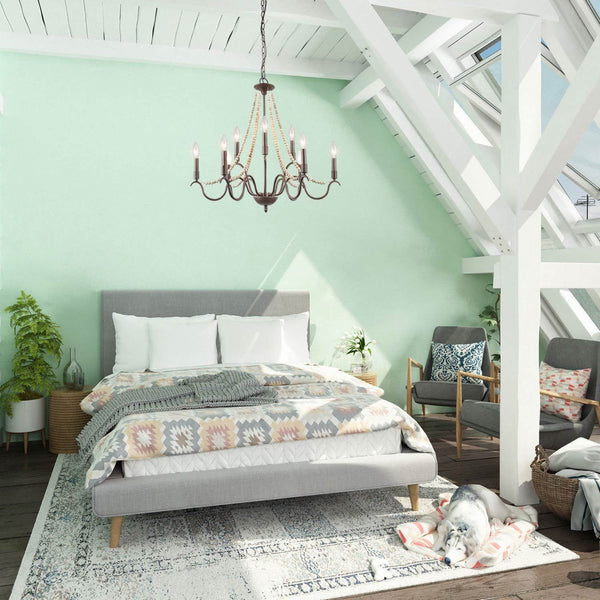 Sometimes you just need a statement piece in the house that will highlight the shiny or matt textures. The grade of detail that sets the feel for the entire interior theme, particularly if it's done in esque blocks of blue and painstakingly gilded staircase or an ornate roof. A huge fresco on the ceiling illuminated with the toned lights from this two tier white wood dangler can transport you back to the Renaissance period. The textured classiness of the distressed wood with candle stem decorated with golden tassels. Sculpted to perfection with wooden drops and floral patterns compliments any vintage styled decor theme.
A desirable collection awaits for art connoisseurs at LNCHome. People who love to be finicky about their decor selections and fill their abode with paradise-like fixtures will never be let down with the vast accumulation of French Country modern chandeliers. Then dust off those old lamps and ceiling lights and get ready for an instant urbane room makeover with these incredibly reasonable and grand light fixtures.