The coziest corner of your house, your bedroom should always be decorated with lights that give warmth and fill a positive vibe in you. While some owners love creating a rustic ambiance with wooden framed lights, some tend to heighten the sophisticated vibe with metal fixtures. With newer and stylish decor options now ruling the market, many house owners also go for the semi-flush mount fixtures with glass shades, wire cages and wooden and crystal beads. LNCHome brings you the beautiful collection of semi-flush mount ceiling lights that can enhance the aesthetic appeal of your room –
 The drum-shaped semi-flush mounts with two, three and four bulbs can be your prospective choice of designer ceiling light fixtures because they can be installed easily with the hardwiring accessories included in the package and are very suitable for dry interiors. The 14.5"x12" light with cylindrical glass shade and faux wooden bond can offer a farmhouse rustic look and you can even dim the three lights on candelabra base with switch. Another variant with three lights has 13"x12.2" dimension with wooden geometrical frame in shape of lantern and rust finish suiting the chic decor.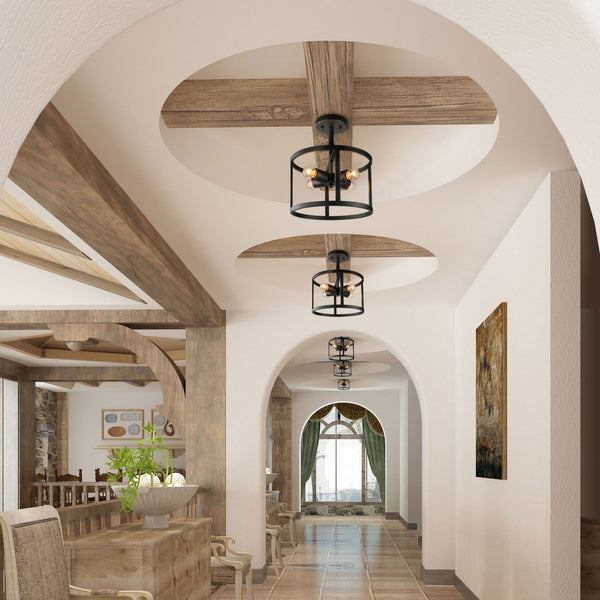 If you want to have four corners off your bedroom lightened up warmly with the semi flush mount ceiling lights¸ check out the 7.8"x11.8" drum fixture with four bulbs facing four different directions. In case of a low ceiling, this light fixture in black metal finish on steel frames can offer an industrial look, thanks to the circular frame with open airy design. For lower ceilings, you can also choose the 8.7"x11.8" Industrial light with durable bronze mesh shade that can complement both transitional contemporary interior and antique urban interiors.
If you want to choose something intricate and stylish, but not in a drum shape, go for the globe-shaped flush mount with wire cage in black finish. With only one light, this 9"x8"fixture gives a soothing warm glow especially in dry interior with low ceiling. Coming to more intricate semi flush mount light fixtures, LNCHome has the wood and crystal beaded 3-light fixtures in aged wood and distressed wood variants. The 17.3"x16.1" Distressed Wood fixture is suitable for larger rooms with higher ceilings while the 13.8"x12.2" Aged Wood fixture is suitable for lower ceilings in smaller bedrooms. The three dimmable candelabra bulbs complement the Bohemian chandelier made of handcrafted bead strands.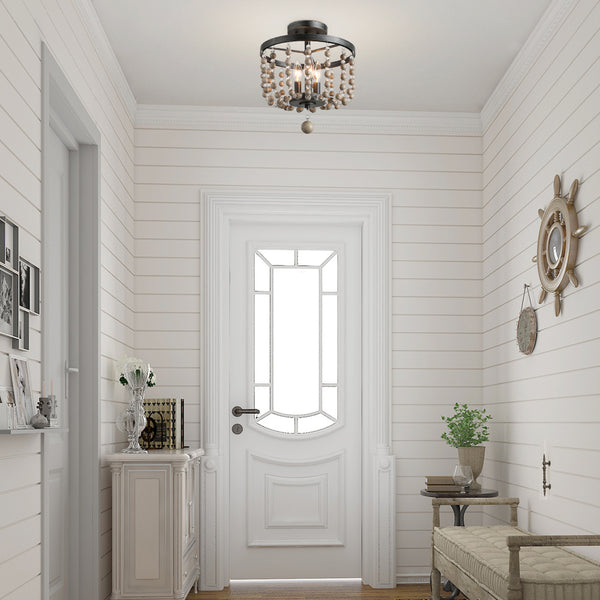 Go for totally unique semi-flush mount lights inside Mason Jars, each having 6.7"x3.9" dimension. You can either purchase the single light fixture for a certain area of the bedroom or a few such lights to hang on different sections. The single light fixture comes with a 5.1" canopy and 5.5" chain while the three-light fixture comes with a 9.8" canopy and 5.5" chain. For offering sufficient brightness to larger area, the five-light fixture with 5.9" chain and 15.7" canopy can be your perfect option. Suitable for vaulted, sloped and flat ceiling, these farmhouse-style Mason jar lights are compatible with dimmers and can work with both vintage and industrial styled rooms.      
No matter what your choice is, the lights should always be suitable for the overall bedroom design and also your requirement of brightness for some part or the entire bedroom. Glass, wood, metal or combining each –the lights will keep up the warmth inside your bedroom.