Ceiling lights are always among the prime focal points of any room of your house and if the room is larger than the other, you need something detailed, large and stylish. For your living room, bedroom or even patio or porch, the French Country Chandeliers from LNCHome can be great choices because they are made of wood and metal in a way that you get a rustic touch with a chic design. Mostly consisting of six candle-lights, there are also chandeliers with five lights, although with slightly greater detailing to suit the sophisticated ambiance of the room.
The 5-light shabby chic chandelier with a metal finish has 28.5" height and 27.6" length with an adjustable 59 inches chain. In any dry area, be it the hallway, kitchen cum dining space, living area or bedroom, this hardwired chandelier constructed from hardy resin and steel has a distressed and antique elegance with faux wood frame. The downward-facing small metal arms and the upward-facing larger metal arms holding the five candle bulbs will enhance the gracefulness of the room.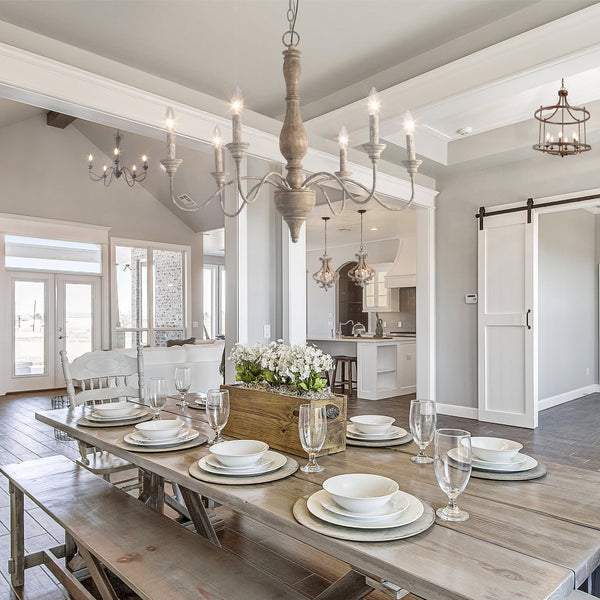 The same design is also available in six light variants from LNCHome where you will find six wooden danglers facing the six candle bulbs which are attached to the upward-facing arms and each arm has wooden danglers hanging downward. This French shabby chic two-tiered chandelier has 28" length, 31.1" height and 59" chain, from which hangs the Persian white steel-crafted frames. The leafy motifs and soft curves compliment the handcrafted central wooden column that has scrolling arms in rich rust hue. The downward and upward accents also create a chic silhouetted finish to a vaulted ceiling.
If you are looking for a bowl-shaped small-sized shabby chic French Country chandelier, check out the 28"x20.8" wooden bowl chandelier from LNCHome with six lights. While the solid wooden frame offers an antique ivory white finish, the circular distressed metal frame in rich scroll details add elegant texture to the room ceiling. Suitable for dry locations, this hardwired chandelier also has an adjustable chain to make it look appealing to different sized rooms and types of ceilings.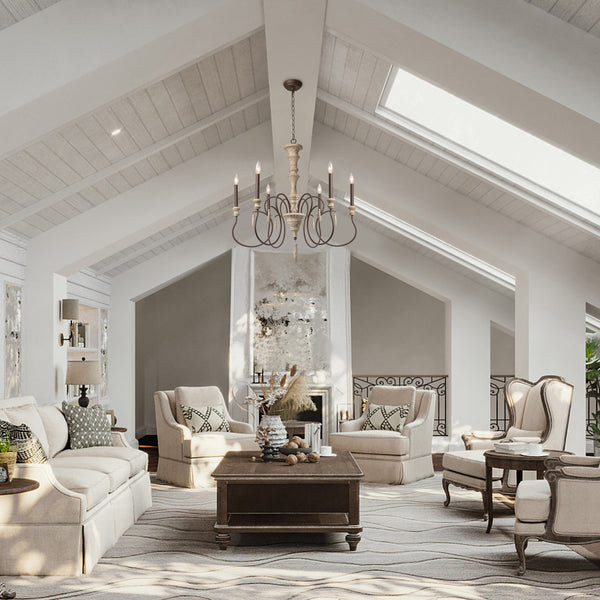 Another model of the similar design is the 26"x26" six-light shabby chic chandelier that is compatible with a dimmer switch to adjust the brightness of the lights. While the adjustable iron chain makes it suitable to hang from different ceilings, the minimalist rust metal design in sweeping slender curves offers a romantic appeal.   
The rust finish 32.7"x31.1" chandelier is hardwired and suitable for dry ambiance. It has dimmable antique blubs and the French country chandelier wood column has a rustic worn look that perfectly complements the scroll arms with wooden danglers. Another classic silhouetted chandelier has six detailed and curved iron arms coming out of a spindle-shaped wooden body. This traditional chandelier of 30.3"x30.7" dimension can be combined with a dimmer switch just like the 6-light candle styled chandelier with a dimension of 24.4"x29.5". It is not only UL listed ensuring safety, but also offers a rich vintage look with the rust arms and distressed wood column. Hang it from flat, vaulted, slanted or sloped ceiling or just use the dimmer switch for warm lighting –the choice is yours.           
Instead of putting ornate chandeliers, these rustic chic models have a combination of vintage and upscale contemporary touch so that no matter whether you have a rustic household or a classy urban household, the chandeliers work in both setups.