Warmth, coziness, and comfort –these are the three most important vibes that you expect in your bedroom and the usage of lights plays a great role in that. For your bedroom, you do not need highly detailed lighting fixtures because those look more suitable in living rooms or meeting areas. While lights dangling from above the bed or the fixtures on bedside are common in most bedrooms, many also invest in proper vanity lights to keep the dressing mirror and table area sufficiently highlighted.
The Flush mount and Semi Flush ceiling lights hung from the ceiling can be your prospective choice to suit the primary requirement of lighting in your room. If you prefer a rustic style of lighting, the metal cage flush mount light fixtures in a set of three or four will be great options –some variants are also available with pull string or adjustable fixtures to direct the lighting. Incandescent lights or tube lights are no longer in trend and hence, you should check out the clear glass dome flush mount lights or the frosted glass iron flush mount lights.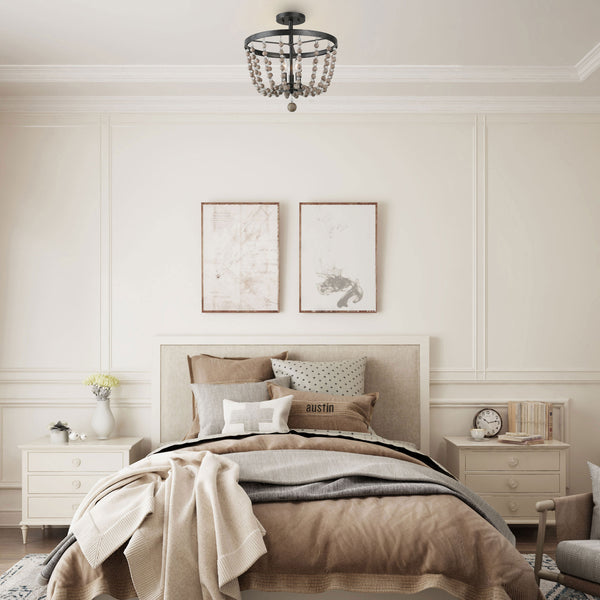 Add some transparency in the lighting with clear and seeded glass Mason Jar light fixtures available single or in sets of three and five. Another semi-flush mount transparent light option can be the 3-light fixture with drum glass shade. Suppose you have watched a show like Game Of Thrones and want to incorporate themed bedroom lighting fixtures, LNCHome has you covered with the Semi Flush Globe Wire Cage Light in black finish or the Faux Wood 20" Orb fixture with 4 lights.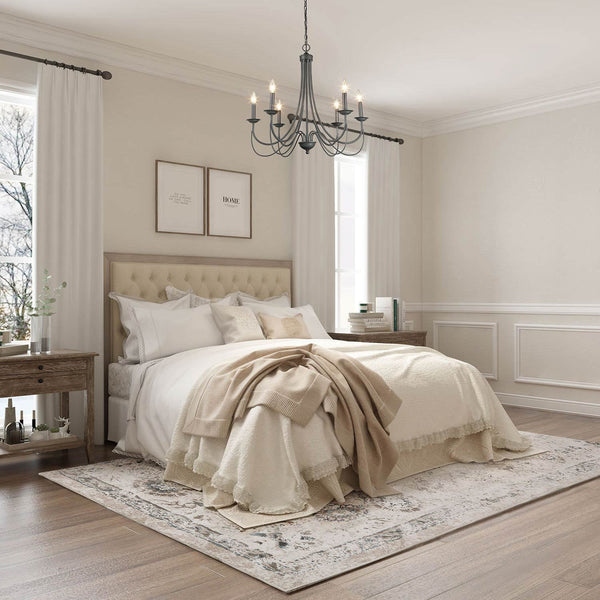 Unlike the decorated French Country chandeliers for living rooms, the Farmhouse Chandeliers can add an elegant yet rustic touch to the bedroom. From the hand-molded Antler light in set of 3 or 6 to the geometric wooden pendant chandelier –there are a number of rustic bedroom lighting options that you can consider. The wagon wheel-shaped chandelier with light fixtures resembling candelabra will always be a timeless choice, but if you want to create a twist with that, choose the ones with frosted or clear glass shades. While some of these chandeliers have the wagon hung with iron chains, some have ropes or plain wire.
Coming to the secondary lighting for bedroom, you should definitely fix wall sconces above the headrest or on both sides of the bed. The Gooseneck Sconces are available in different color finish options like industrial black, champagne gold, antique brass, vintage, blue, rust, and white. However, the swing arm sconces will be best choices for bedside work or reading because you can adjust the arm sidewise according to your requirement. The pendant ceiling lights with an adjustable chain or fixed wire work excellently if you have a small room. There are caged fixtures as well as those with glass shades and some are also available in dome or water drop shaped shade. 
LNCHome has different categories of lights to fix on walls and ceilings to suit your requirement and complement your bedroom setup. Many house owners want to experiment with something new or add light fixtures that stand in perfect contrast to the ceiling, wall color, and other accessories in the bedroom.