Your culinary adventures can never be successful if your kitchen island is not well lit because without proper lighting, you might end up mistaking the ingredients or in garnishing or even in setting the proper temperature in the microwave oven. As much as the kitchen seems like the section that tends to be messier than the rest of the house, you need beautiful lighting fixtures there. Many kitchens also have counter-top dining facility or the dining table set up beside the kitchen island –these type of designs also need ornamental island lights, which offer warm yet bright light and compliment the rest of the decors of the household.
Mason Jar lights are the new trendsetters in island lighting for kitchen there are three variants of these lights in LNCHome. The three-pendant light chandelier in matte black metal finish comes in two sizes i.e. 39.5"x13" and 40.2"x20". The first variant has clear glass jars hung from 14 inches, 28.7 inches and 39.5 inches chains attached with a round canopy while the second variant has adjustable chains hung from a rectangular canopy. If you want an industrial-chic look for the kitchen island, go for the 5-light variant in which the five chains have adjustable height to let you customize according to your choice.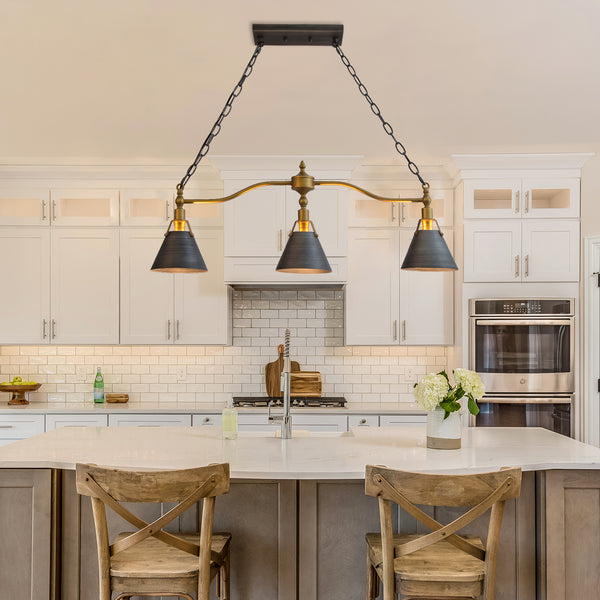 The antique silver 5-light and 3-light pendant lights in brush finish and antique silver finish can be great options if you have a dining space near the kitchen island. Suitable for flat, vaulted and sloped ceilings and dry locations, these hardwired kitchen island lighting fixtures feature handcrafted clear quart-sized mason jars. Check out the Linear farmhouse lights which are available in 3, 4 and 5 light variants –the Mason Jars containing lights are hung from adjustable 59inch chains which are attached to either the faux wood or metal canopy.
LNCHome also features the three-light Farmhouse style chandeliers which feature bowl-shaped metal or glass shades attached with a triangular or pipe-shaped base. The glass-shade variant offers an industrial rusty black finish with the curved rod and two twisted sloping rods while the brushed silver shade variant has a straight linear pipe-shaped base. These kitchen island light fixtures are also compatible with dimmable bulbs and can be installed on flat, vaulted, sloped and slanted ceilings.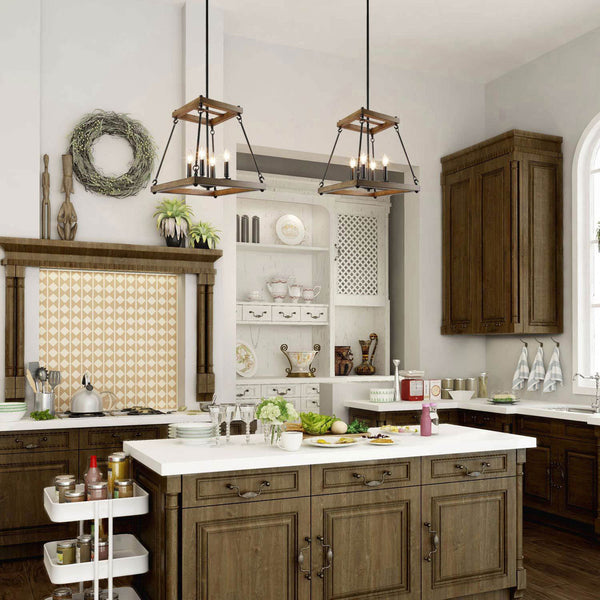 The downward-facing 3-light glass bottle chandelier hung from adjustable 62 inches wire attached to wooden rectangular canopy can be a great option to customize according to four height preference. A perfect blend of transitional and industrial style, these island lights are available in 3 and 4 light variants and also without glass bottle shades where the bulbs are hung from an iron pipe fixture.
If you are looking for more stylish kitchen island lighting for a kitchen island cum dining space, check out the transitional rustic wooden pendant chandelier with three lights or the rectangular antique wooden chandelier with 3 lights. In both these variants, the light can be hung within the height range of 10 to 63 inches and the lights can be dimmed with an additional dimmer switch. The beige-colored linen shades are complemented by the crisscross distressed wood panels and bronze frame. A warm ambiance is created by the burlap.
Apart from these, you can also choose the ceiling-facing 8-light pendant chandeliers or the wood and metal caged adjustable island lights. The wooden geometric pendants, rustic foyer pendants with a frost glass cover and the wood chandelier with a wooden accent can suit your kitchen island decor.