From bedroom to the living room, Kitchen Island to study area –the pendant lights can be your chic and affordable options for indoor lighting. The pendant fixtures are neither too extravagant nor too dull but come with a fusion flair of vintage and modernism which make them suitable for rustic as well as contemporary styled households. Rust, silver, distressed white, industrial black and grey are some of the metal finishes that you can check out for the pendants and if you have a weakness for wooden fixtures, there are distressed and faux wood finish designs. Those who want to mix and match can incorporate the pendant fixtures with glass shades or the ones made of both wood and metal.
The farmhouse hanging lights are designed in such a way that you can use them both for beach side or countryside cottages and upscale chic apartments. The most simplistic design would be the barn warehouse light fixtures in hand-polished silver, blackened steel, industrial black, industrial silver and bronze shades which can hold exposed filament bulbs. These lights can simultaneously be used for kitchen counters, hallways, doorways, porches and dining space. These lights are hardwired for dry indoor usage and are compatible with dimmer switches.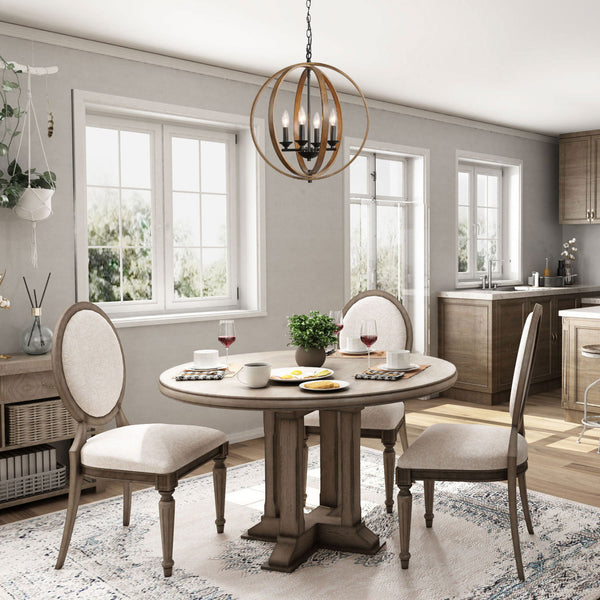 Check out the Farmhouse Mason Jar light fixtures with seeded glass shades and adjustable chains that make these suitable for ceilings with different heights. Another adjustable light fixture with glass construction would be the clear glass bottle pendant or clear glass bell shaped pendant or the faux wood and glass lantern with a canopy that is compatible with flat, vaulted, slanted and sloped ceilings.
If you are looking for rustic pendant lighting for kitchen island without glass, look for the foyer pendant with pine wood frame and X-patterned iron cage in black finish. The oval and drum-shaped 3 and 4 light fixtures respectively can be great options for dining space, living room, and seating area while the 1-light cylindrical mini cage light fixture and spiral bronze cage ceiling light offer a focal point and can be a great choice if you want a light for a particular area.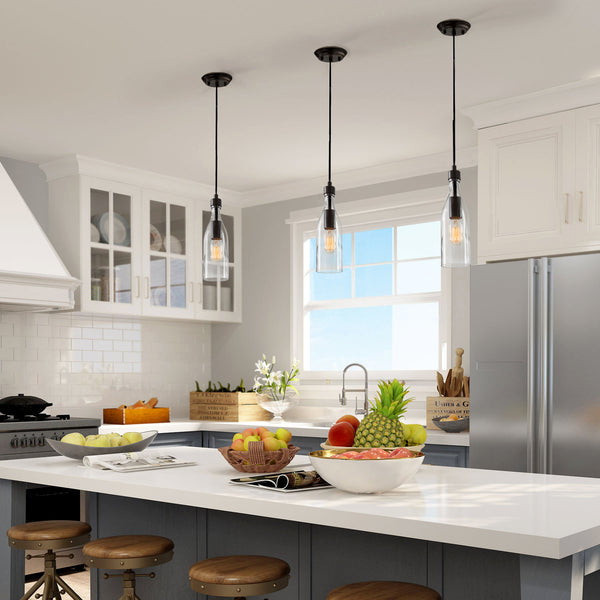 There is no dearth of creativity with wooden frames when if you are up for some geometrical light fixtures. For elaborate modern farmhouse pendant lighting, the 20" wide orb made of three faux wood rings in crisscross from surrounding four candlelight fixtures looks as elegant as the geometric pendant chandeliers that are available in all wood construction as well as in wood and metal fusion. For extravagant living room lighting, check out the wooden orb chandelier with 3 lights and crystals, the 4-light lantern chandelier, the hand-crafted white wooden drum chandelier and also the 15" globe chandelier with metal ring.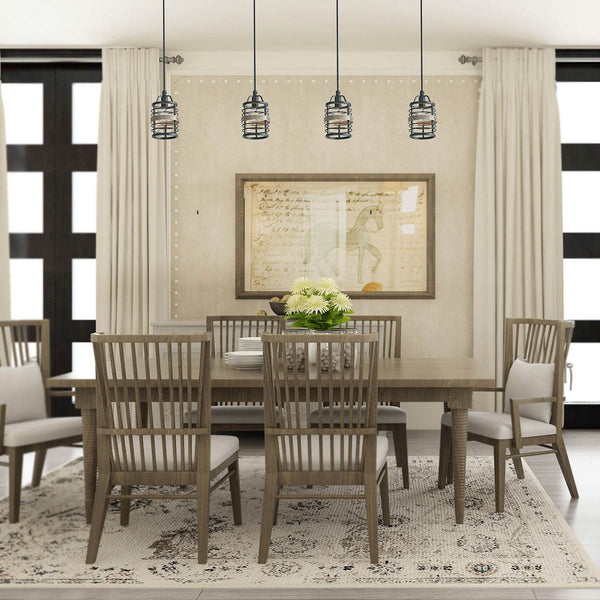 If you are looking for some unique yet catchy pendant lighting ideas for your kitchen and dining space, the 8-light wooden beam pendant fixture can be the best option. Its exposed cords holding the bulbs can be coiled around the distressed wooden beam aimlessly or strategically in various lengths to create a perfect statement. The modern chic 10-light spider chandelier is another such option where you get clips to hold the light cords from various heights.
The rectangular transitional pendant with crisscrossed wooden frames and black metal frames surrounding beige linen shade would offer dispersed warm lighting just like the black mesh cage pendant or glass shaded dome pendant. Apart from these, one-light metal cage fixtures in black and champagne gold finish are also great pendant lighting options.