While planning for indoor lighting for each room inside your house, you often tend to skip on lighting the backyard, front yard, porch or patio facing the garden. From an evening get-together on the outdoor patio to the outdoor dining space on a romantic night, from offering an extensive view to your perfectly maintained garden to offering a sense of security to your household –the hanging lights and wall lights can make your surroundings charming in darkness. With warm lighting embracing you and the surroundings, you can comfortably feel the scent of the air and breathe outside the four walls at the day's end. Besides, these outdoor lights can also be a head-turner for the pedestrians if they perfectly highlight the main features of your house exterior.
Coming to modern outdoor wall lighting, a traditional wall sconce with seeded glass shade can be quite a durable option with steel construction while heightening up the blend of transitional and contemporary outdoor décor in the farmhouse style. Compatible with dimmer, this light fixture with bent iron arm, shallow bowl-shaped roof and rustic glass shade can give a natural and simplistic look to the walls.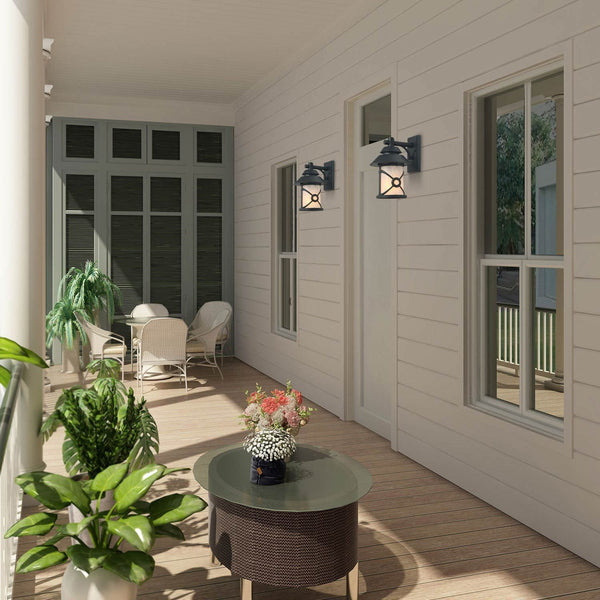 If you are concerned about maintaining the all-glass shade, why not go for the glass and lightweight aluminum wall light in a bronze wall sconce that can withstand adverse weather conditions? This shockproof and rustproof model from LNCHome emanates a retro look through the oil-rubbed finish of bronze and seeded glass cover that casts a warm shadow on the wall.
For simple outdoor wall lighting, you can check out the 10.6"x6.1" industrial retro light with an aluminum black finish and clear glass shade or the 12.2"x5.9" accent wall lamp with seeded glass shade. The 11.8"x4.3" farmhouse lantern with clear waterproof glass shade and light-weight shockproof aluminum fixture in a rectangular box shape can be a prospective outdoor choice. If you prefer the seeded glass variant, the 11"x8.7" lantern in iron and black finish, 12"x8" textured glass transitional lantern, 11"x4.7" textured glass wall sconce and 13.4"x4.9" transitional black lantern can meet your requirements.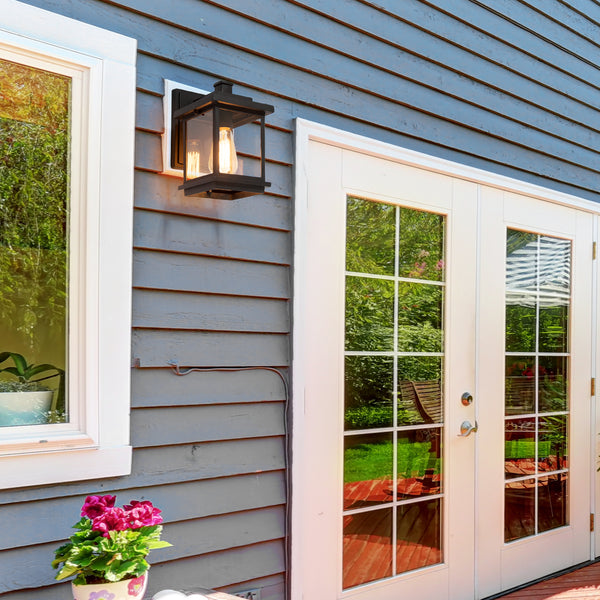 As for ornamental outdoor lighting fixtures the Transitional 13.4"x6.3" wall sconce with cylindrical frosted glass shade and black metal base as well as the 12.5"x7.5" Exterior Wall light with aluminum accents and frosted cylindrical glass shade can be great options. The 2-light exterior wall sconce featuring glass panes and candle sleeves is another trendsetter option if you are looking for more brightness.
Many house-owners prefer hanging outdoor lights over or in addition to wall lights to ensure even brightness and also to keep the lights safe from external damage. The 9.4"x6.3" Traditional Farmhouse Pendant Porch Light can be among the most delicate outdoor hanging lights with its light globe glass having bubble-like patterns and adjustable 59" chain that can be hung from flat, slanted, sloped or vaulted ceilings. If you think that maintaining the bubble glass shade can be problematic, go for the vintage 12.2"x10.2" bubble glass globe light that is surrounded by an iron cage. Offering a nautical rustic feel as found in seaside homes and country cottages, this lantern is suitable for both wet and dry surroundings.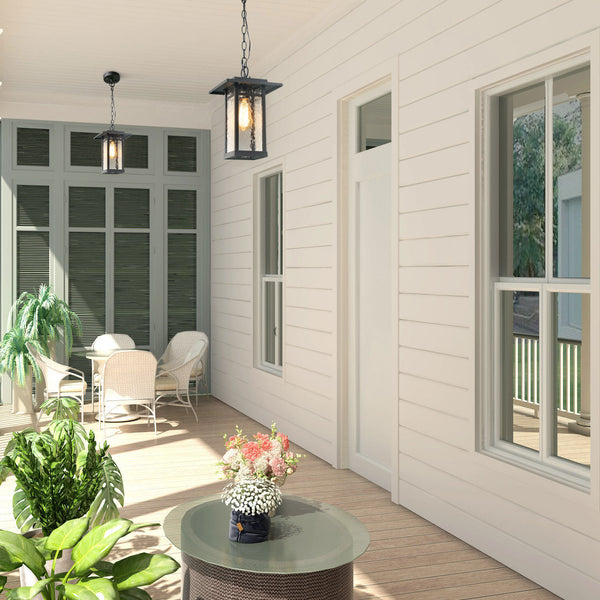 Transitional farm styled hanging lights are also available in cylindrical frosted glass shades surrounded by mission-style black metal accents and base as well as dark metal frame surrounding obscured glass shades. Go for one or a few varieties of wall lights or combine hanging lights of same or different varieties –decorating the outdoors can be really enjoyable.